If you call yourself a horror fan and you haven't even heard of Ruggero Deodato's notorious 1980 shocker Cannibal Holocaust then it's time to reconsider your genre allegiance. Described by Film Threat in a Five Star review as "excellent...legendary...there's no other film like it...there never will be, Cannibal Holocaust remains one of the most shocking and controversial films of all time. Now, for the first time ever and in association with Shameless Screen Entertainment, Deodato has revisited his classic of horror cinema to produce a brand new Director's Edit of the film especially for its High Definition debut on Blu-ray.
An extremely violent and gory film, containing strong sex, sexual violence and animal slaughter, Cannibal Holocaust is a powerful and provocative work concerning a crew of documentary filmmakers who go missing while filming primitive cannibal tribes deep in the Amazonian rain forest. The horrific footage they shot before disappearing is found by the members of a second expedition who soon discover the horrific truth behind their demise.
This new Director's Edit, which removes or partially hides several instances of real-life animal slaughter, will be released as a special Blu-ray and as two-disc DVD edition that includes both the new version and the original full version of Cannibal Holocaust, along with a host of extras specially commissioned for this release.
In a statement explaining the artistic decision to re-edit the film, Deodato says,
"At the time, I would have preferred not to kill the animals during the making of the film, but this was requested by the producers. We'd sent them some early dailies and they kept calling us on set in the jungle asking us to shoot increasingly bloody scenes.

"I would not change anything to the film, its structure and content, aside from the fact that, now – thirty years later – I've reassessed the way the animals were dealt with. Now I would not do it."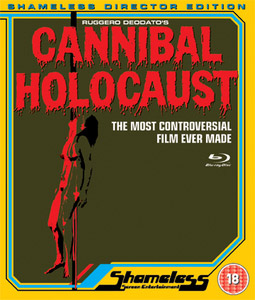 Cannibal Holocaust (cert. 18) will be released on Blu-ray (£24.99) and two-disc DVD (£19.99) by Shameless Screen Entertainment on 26th September 2011.
The following special features will be included:
Introduction to the original film by director Ruggero Deodato;
Introduction to the new Director's Edit by Ruggero Deodato;
Film And Be Damned – inteview with Ruggero Deodato and actor Carl G. Yorke;
The Long Road Back From Hell – specially commissioned documentary by Cine Excess featuring Kim Newman, Professor Julian Petley, Professor Mary Wood, Ruggero Deodato, Carl G. Yorke and actress Francesca Ciardi;
Theatrical Trailer;
Easter Egg;
Shameless Trailer Park.