During excavations in London a large unidentified object is unearthed. It defies definition although the area has always been associated with diabolical evil. Within its walls Professor Quatermass discovers the remains of intelligent alien creatures that attempted to conquer the Earth in prehistoric times and, through their experiments on early man, altered human evolution to its present state. Though dormant for many centuries, the excavations threaten to unleash the terrifying force of the aliens upon mankind once again...
It began as a hugely popular TV drama, the third in writer Nigel Kneale's Quatermass serials, following Quatermass and the Pit and Quatermass II, both of which were also made into films by the then young Hammer Studios with American actor Brian Donlevy as Quatermass. But it was with the third film adaptation, Quatermass and the Pit, that the studio really struck gold. Scottish actor Andrew Keir was cast as Quatermass, the fine James Donald was cast in a key supporting role, Kneale wrote the screenplay, and Roy Ward Baker was installed as director. The result remains one of Hammer's most respected and frightening films.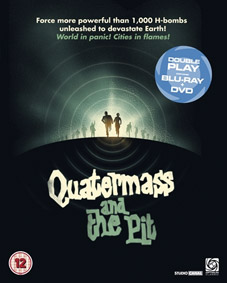 Now Quatermass and the Pit has been digitally restored and will be released on UK double-play (containing DVD and Blu-ray versions of the film) from Optimum Home Entertainment on 19th September 2011 at the RRP of £22.99.
The listed special features are:
New UK exclusive interviews with Julian Glover, Mark Gatiss, Judith Kerr, Kim Newman and Marcus Hearn;
Audio commentary with Nigel Kneale and Roy Ward Baker;
World of Hammer - Sci-Fi Episode;
UK and US trailers;
Interview with Joe Dante.