Following on from their releases of Fritz Lang's American films, While the City Sleeps and Beyond a Reasonable Doubt, Exposure Cinema have announced a November DVD release of Lang's 1947 Freudian noir take on the Bluebeard tale, Secret Beyond the Door, which stars Joan Bennett as Celia, a young and impressionable New Yorker who falls for handsome architect Mark Lamphere (Michael Redgrave), whom she marries in haste.
Although all seems blissful at first, mystery surrounds Celia's husband: his opulent mansion contains re- creations of rooms in which famous murders took place and she later discovers that his previous wife died in suspicious circumstances. Is Celia's imagination running wild, or does Mark really have a sinister secret - and why is one room always kept locked?
Featuring striking cinematography by Stanley Cortez (The Night of the Hunter and Sam Fuller's Shock Corridor), this was the last production Fritz Lang would make with infamous co-producer Walter Wanger (they had previously collaborated on Scarlet Street) and the two fell out shortly after making the film.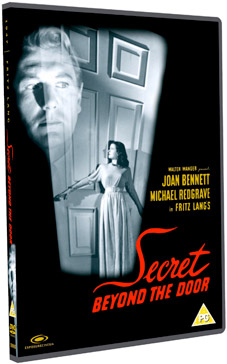 Secret Beyond the Door will be released on UK DVD on 9th November 2011 by Exposure Cinema at the RRP of £14.99.
Featuring a diugitally restored and remastered transfer of the film, the disc will also have the following extra features:
Stills, poster and behind-the-scenes gallery;
Collector's booklet including several essays and film notes.