An alien-spawned, mysterious mist blankets the northern half of Japan, transforming those who inhale it into ravenous, flesh-eating zombies. Plunged into chaos, Japan is torn in two: the southern half of the country, where the populace remains untouched by the deadly gas, lives behind a heavily-fortified wall, while the northern half is a lawless, zombie-infected wasteland.
Hope arrives in the form of Kika (Yumiko Hara), a beautiful high school girl armed with a chainsaw sword powered by an artificial heart. Recruited by the government, Kika leads a ragtag group of desperados on a secret mission into the zombie-infected wilds to exterminate zombie queen Rikka (Eihi Shiina from Audition, Tokyo Gore Police) and put an end to the plague of the living dead. But the road is fraught with a thriving zombie population that refuses to lay down and die.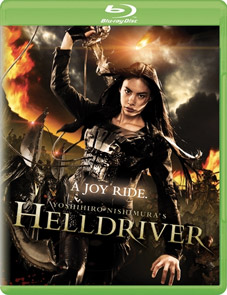 The hugely talented but clearly insane Yoshihiro Nishimura, director of Tokyo Gore Police and the amazing Vampire Girl Vs. Frankenstein Girl, is back with another foray into disturbing wonder with the Japanese zombie movie, Helldriver (Nihon bundan: Heru doraibâ), which will be released on UK DVD and Blu-ray by Bounty Films on 31st October 2011 at the RRP of £18.37.
Featuring both the Japanese Theatrical Cut and the Director's Cut, the discs will also have the following extras:
'Making of' featurette;
Trailer (see below).