It's been described as "really creepy stuff" by Stephen Susco, screenwriter of American remakes of The Grudge 1 and 2, and "very tense" and "engaging" over at Terror Firmer. Not everyone is as enthusiastic, but this is a debut feature for its director, so we're prepared to give him the benefit of the doubt.
To celebrate her forthcoming 21st birthday, Miriam invites her college friends Leo, Cassy, Mark and Tanya on a road trip out of Manhattan to visit her Aunt Gail's remote country house. Jumping at the chance to spend a free weekend together in the snowy wilds surrounded by beautiful mountain views and endless woodlands, the friends pile into Miriam's car, with aspiring filmmaker Leo bringing along his new video camera to document the journey and the celebrations.
But their excitement about the leisurely getaway soon turns to anxiety and panic following an encounter with a mysterious van driver along the way and 48 hours later, Miriam, Cassy, Leo, Mark and Tanya have vanished leaving officers investigating their disappearance without a single clue. That is until a copy of what Leo captured on video is delivered to the FBI by an unknown source.
The debut feature from writer-director Dominic Perez, Evil Things is a shocker in the camcorder horror tradition of REC, The Blair Witch Project and Paranormal Activity. Will it match up to these acclaimed forebears? We shall see.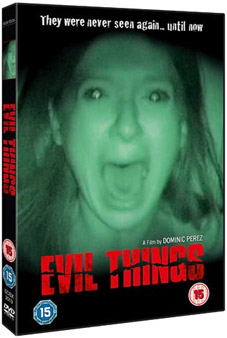 Evil Things will be released on UK DVD on 10th October 2011 by Scanbox Entertainment at the RRP of £9.99.
Special features will include:
Video appeals from friends and family;
Videotape evidence: Exhibit No. 2;
Trailer (see below).