Based on Gordon M. Williams's novel The Siege Of Trencher's Farm, and starring Dustin Hoffman and Susan George, Straw Dogs marked Peckinpah's first directorial step outside the Western genre and into a contemporary (and uniquely British) setting. The result is an unflinching and uncompromising study of primal, barbaric brutality that is generally regarded as one of the strongest statements about violence ever put on screen.
Quiet American mathematician David Sumner (Dustin Hoffman) and his British-born wife Amy (Susan George) relocate to Amy's rural English hometown in an attempt to flee the violent social unrest brewing in the US. When David hires some locals, including a former boyfriend of Amy's, to repair his barn, the couple find themselves being subtly harassed and bullied by the workmen. The more the pacifist David ignores the problem, the more the harassment intensifies, leading to terrifying consequences as he ultimately finds himself forced to defend his home and his life, discovering a frighteningly vicious side to himself as events escalate towards a bloody climax.
Boasting outstanding performances from the two leads (particularly Hoffman), a brilliant support cast, and Jerry Fielding's superb Oscar-nominated score, Straw Dogs, in the 40 years since its original release, has lost none of its intense, visceral power to thrill and shock in equal measure. Undisputedly a director ahead of his time, Sam Peckinpah's uncompromising approach often saw him being reviled and vilified in some quarters while being hailed in others. Nonetheless, in Straw Dogs he displays a cinematic artistry very few filmmakers have touched upon before or since.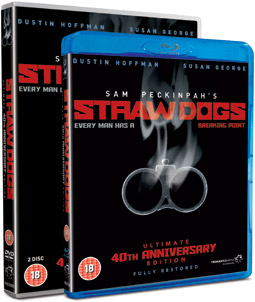 Coinciding with its 40th anniversary and with the forthcoming theatrical release (on 4th November 2011) of the dreaded remake directed by Rod Lurie and starring James Marsden, Kate Bosworth, Alexander Skarsgard and James Woods (for God's sake, even the poster has been ripped off from the original), director Sam Peckinpah's notorious but brilliant thriller Straw Dogs has been carefully restored and remastered for release on two-disc DVD (£15.99) and for the first time ever from as a feature-packed Special Edition Blu-ray (£17.99) on 24th October 2011 from FremantleMedia Enterprises.
Special Features will include:
Audio commentary by Katy Haber (Dialogue Director and Peckinpah's associate, close friend and PA);
Audio commentary by Peckinpah biographers Garner Simmons, David Weddle and Paul Seydor;
Isolated Oscar nominated score by Jerry Fielding;
Interviews with actress Susan George, producer Dan Melnick and Garner Simmons (author of Peckinpah: A Portrait In Montage);
Stills galleries;
Original US theatrical trailer;
TV and radio spots;
1971 on-location documentary;
Before and After restoration comparisons;
Straw Dogs and the Censors;
The Peckinpah-Pinter Letters;
Sam and Dan correspondence;
Why Call The Film Straw Dogs?;
The Dan Melnick-BBFC Letters;
The Times review and critic outrage;
New York Times articles;
1972 BBFC defence against local authority banning;
1999 BBFC Home Video Statement;
2002 BBFC Home Video Statement;
2001 Uncut magazine feature;
Consider This A Bad Review;
The deleted Pub Scene;
Film facts and trivia.