A mesmerising and furious performance from John Hurt, as delusional revolutionary Malcolm Scrawdyke, is at the heart of the chillingly dark 1974 comedy Little Malcolm. Rarely seen in almost 40 years, it will be released by BFI Flipside in a Dual Format Edition in October with thematically related archival short films and an extensive booklet with essays and contributions from Stuart Cooper and Mike Leigh.
Expelled art student Scrawdyke (John Hurt) leads his Party of Dynamic Erection – with devoted followers Wick (John McEnery), Irwin (Raymond Platt) and Nipple (David Warner) – in an enraged battle against an unseen nemesis. Rosalind Ayres is both sensitive and ferocious as Malcolm's would-be girlfriend Ann.
Based on the celebrated 1965 stage play Little Malcolm and his Struggle Against the Eunuchs by David Halliwell, Little Malcolm was filmed on location in bleak, wintry Oldham by director Stuart Cooper (Overlord, The Disappearance) and cinematographer John Alcott (A Clockwork Orange, The Shining).
Financed by George Harrison, who had admired John Hurt's lead performance in the play at the Garrick Theatre in 1965 (and preceding the launch of Harrison's HandMade Films by five years), Little Malcolm was winner of the Silver Bear at the 1974 Berlin Film Festival. Music is by Stanley Myers (The Deer Hunter) with incidental music by George Harrison, and the film also features performances by Harpoon and Splinter.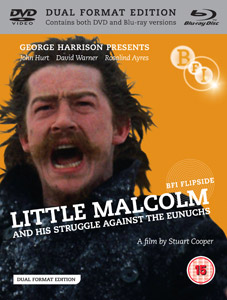 Little Malcolm will be released by BFI Flipside as a dual format edition (DVD & Blu-ray) on 24th October 2011 at the RRP of £19.99.
Extra features will include:
Original Little Malcolm trailer;
Put Yourself In My Place (Francine Winham, 1974, 25 mins): fraught gender relations trigger a startling role reversal in this polemical comedy starring Judy Geeson (Here We Go Round the Mulberry Bush);
The Contraption (James Dearden, 1977, 7 mins): in a final act of defeat or defiance, a man (Richard O'Brien) builds a sinister contraption in a dark cellar;
Illustrated booklet featuring original artwork and contributions from Stuart Cooper, John Hurt, Mike Leigh (who directed the debut stage production of Halliwell's play) and Yvonne Tasker from the University of East Anglia.