It's a question we've never really settled here at Outsider, whether Quentin Tarantino is a great filmmaking talent or an obsessive movie geek with an eye for recycling other people's ideas. He's certainly a master of self-publicity, and his films have found huge favour with a particular audience (there was a time when every seemingly bloody media student in the UK was making their own shitty version of Reservoir Dogs (which was a partial remake of City on Fire, of course) before they realised it was even easier to run into the woods with two cameras and make formless Blair Witch Project knock-offs.
For many Tarantino himself has become so annoying that it's easy to forget the impact his first two features had at the time of their release, with Pulp Fiction proving a real breakthrough work, landing a screenwriting Oscar for Tarantino and Roger Avary, relaunching the career of John Travolta, and triggering a series of films constructed from multiple interconnected stories. I'm not going to rattle the plot out here - if you genuinely don't know it then you'll have little trouble tracking down detailed summaries.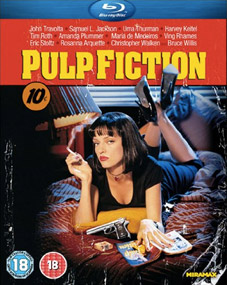 It's perhaps surprising that Pulp Fiction has not made it to UK Blu-ray earlier, but now it's on the way it looks set to have been worth waiting for. It will be released by Lions Gate Home Entertainment on Blu-ray only on 17th October 2011 at the RRP of £24.99.
The disk a spanking new 1080p transfer approved by the pointy-chinned wonder himself, DTS-HD Master Audio 5.1 sound, and six hours' worth of old and new bonus features, including:
NEW Interviews with Cast including: John Travolta, Samuel L. Jackson, Rosanna Arquette, Eric Stoltz, Tim Roth and more;
NEW Critics' Retrospective on the Movie's Place in Film History;
Behind-the-Scenes Footage;
Pulp Fiction: The Facts featurette;
Production Design featurette;
Siskel & Ebert at the Movies – The Tarantino Generation;
Independent Spirit Awards Footage;
Cannes Film Festival Footage;
The Charlie Rose Show Tarantino Interview;
Still Galleries;
Trivia Track;
Deleted Scenes.