Not so long ago Arrow announced the launch of their new ArrowDrome label dedicated to little seen cult films of years past, and following on from their the first confirmed releases, The Man With the Severed Head and McBain, the next two candidates are the 1973 The Cheerleaders and the 1975 The Devil's Kiss.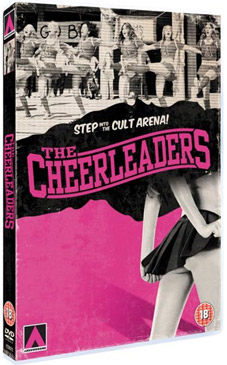 The Cheerleaders (1973)
Debbie may have done Dallas, but the girls of Amorosa High are game enough to take on the whole country in The Cheerleaders, a classic 1970s sex comedy where the laughs come thick and fast and the outfits come off even quicker.
For the bold and brassy girls of the cheerleading squad, taking one for their football team comes naturally, so when rivals need to be taken down, there's only one solution... seduce them into exhaustion. Now the game girls are on a sex-crazed mission to ride their rivals to victory in the politically incorrect comedy that shocked the world!
From lesbian sports mistresses and square-jawed jocks, no one is safe from the amorous advances of the hottest squad of horny good-time girls in the USA.
The Cheerleaders (cert. tbc) will be released on DVD by ArrowDrome on 24th October 2011 at the RRP of £12.99.
Special Features include:
Bonus feature-length movie Revenge Of The Cheerleaders;
Collectors' booklet by Robin Bougie;
Trailers;
TV and radio spots;
Reversible sleeve.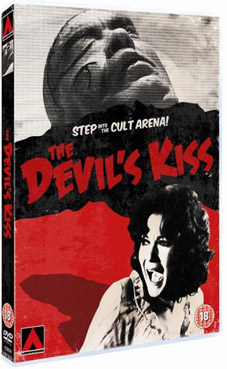 The Devil's Kiss (1975)
Claire Grandier (Silvia Solar) is a medium with one thing on her mind... blood drenched vengeance. She's a psychic black widow who'll stop at nothing to destroy the Duke De Haussement (Jose Nieto), the man she holds responsible for her husband's untimely death.
After charming her way into the creepy basement of the Duke's crumbling castle on the promise of revealing occult secrets, she sets to work with a sick professor and a twisted dwarf, creating a demon-possessed Frankenstein zombie who's programmed to kill in this demented and mixed up Spanish classic from director Jordi Gigo (Porno Girls).
Outrageous 1970s fashion and bizarre devilry collide with every cliché in the gothic horror manual for a wild ride into sleazy retro Euro-terror.
The Devil's Kiss (cert. 15) will be released on DVD by ArrowDrome on 17th October 2011 at the RRP of £9.99. Special Features include:
Collector's booklet by Stephen Thrower;
Eurociné Horror trailer reel;
Reversible sleeve.