When reports come in of a man in a police uniform committing gore drenched bloody murder on the city streets, officer Jack Forrest stands accused. Now, with few friends, powerful enemies and a psychopathic slayer still at large, it's up to Jack to prove he's not guilty and bring down the killer.
Notorious video nasty creator William Lustig (Vigilante; Maniac) and B-Movie legend Larry Cohen (Q: the Winged Serpent; It's Alive) combine their directorial and writing talents, respectively, for a unique high-speed collision of the slasher movie and police thriller in Maniac Cop. A blood splattered tale of brutal cop vengeance from beyond the grave, the film stars Tom Atkins (The Fog; Creepshow), cult favourite Bruce Campbell (the Evil Dead trilogy, Bubba Ho-Tep) and Laurene Landon (The Ambulance; It's Alive III) and features cameo appearances by Lustig, the original Shaft Richard Roundtree, director Sam Raimi, and the Raging Bull himself, world champion boxer Jake LaMotta.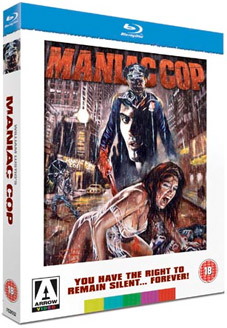 Maniac Cop (cert. 18) will be released on Blu-ray by Arrow Video on 31st October 2011 at the rather high price of £27.99.
With a brand new High Definition transfer of film presented in its original 1.85:1 aspect ratio, the original stereo audio and optional subtitles for the hearing impaired, the disc will have the following special features:
Exclusive UK introduction to the film by star Tom Atkins;
Doomed Detective: Tom Atkins on Maniac Cop;
Lady Of The Night: Laurene Landon remembers Maniac Cop;
Scripting A New Slasher Super-Villain: Larry Cohen on Matt Cordell;
Trailer;
Collectors' booklet featuring brand new writing on the film by author Troy Howarth and The Original Maniac: An interview with William Lustig, adapted from Calum Waddell's book Taboo Breakers;
Reversible sleeve with original and newly commissioned artwork;
Double-sided fold out artwork poster.