Cockroaches are spreading a deadly disease around Manhattan, claiming the lives of the city's children. Entomologist Susan Tyler (Mira Sorvino - Mighty Aphrodite, Reservation Road) and her husband Peter Mann (Jeremy Northam – Enigma, Gosford Park) use genetic engineering to create the Judas Breed to kill off the deadly cockroaches. However, this deadly strain of insect evolves over time, growing as big as people and learning to mimic their movements. The perfect killer is born and humanity is its hunting ground...
Originally released in 1997, this creepy if not wholly science fiction/horror crossover was Mexican maestro Guillermo del Toro's first foray into American cinema. Del Toro himself has always expressed dissatisfaction with the original release, but now has recut the film himself to create a version that is far closer to his original vision.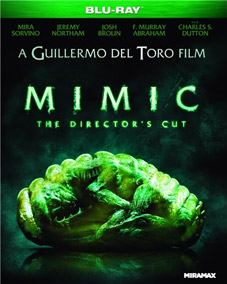 Mimic: Special Edition will be released on Blu-ray only on 31st October 2011 by Studio Canal at the RRP of £24.99.
The following extra features have been confirmed:
Video prologue with Guillermo del Toro;
Audio commentary with Guillermo del Toro;
Reclaiming Mimic featurette;
A Leap in Evolution – The Creatures of Mimic featurette;
Back Into The Tunnels – Shooting Mimic featurette;
Deleted scenes;
Storyboard animatics;
Gag reel;
Theatrical Trailer.