Surveillance expert Harry Caul (Gene Hackman) values his personal privacy and anonymity above all else. When he and partner Stan (John Cazale) are hired by a mysterious client known only as 'the director' (Robert Duvall) to follow a young couple, Harry deduces that the woman, Mary, is the director's wife, and the man an employee with whom she is conducting an affair. Harry becomes convinced that the director intends to murder the pair and, haunted by guilt from a previous assignment where the information he provided resulted in loss of human life, sets out to prevent the killing himself. One of Coppola's masterpieces, The Conversation is a dark and unsettling conspiracy thriller which explores the growing role of technology in society, and the impossibility of privacy in our daily lives.
The Conversation was the first film directed by Francis Coppola following his phenomenal breakthrough success with The Godfather and remains to this day one of his most remarkable, intelligent and compelling films. Boasting a superb central performance from Gene Hackman, the film features a number of key actors of 1970s American cinema, including John Cazale, Frederic Forrest, Teri Garr and Harrison Ford, plus an uncredited cameo from Robert Duvall. Featuring dazzling sound montage work from Walter Murch, the film was nominated for three Academy Awards, and one of two Coppola films (the other was Apocalypse Now), to win the prestigious Palme d'Or at Cannes.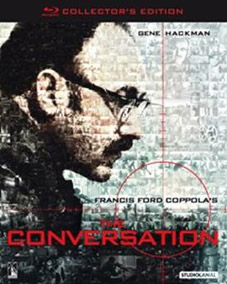 The Conversation will released on UK Blu-ray for the first time on 31st October 2011 by Studio Canal at the RRP of £17.99.
The special features are:
Francis Ford Copolla commentary;
Walter Murch commentary;
Cindy Williams Screen Test;
Harrison Ford Screen Test;
No Cigar;
David Shire Interview;;
Then and Now;
Gene Hackman Interview;
Script Dictations;
Close-Up On the Conversation
Trailer.