Akira Kurosawa, one of cinema's greatest auteurs, has inspired filmmakers as diverse as George Lucas and Sergio Leone. Now the BFI have announced the upcoming release of two Kuosawa box sets. The Kurosawa Crime Collection contains four of his most celebrated crime thrillers, which the Kurosawa Classic Collection brings together five of his most profound masterpieces, each exploring the complexities of life, and includes two previously unreleased films.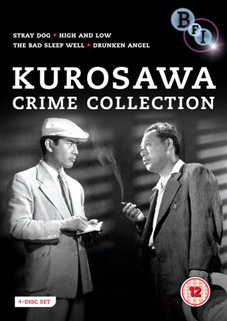 The Kusosawa Crime Collection contains the celebrate crime thrillers Drunken Angel, Stray Dog, The Bad Sleep Well and High and Low. While previously available individually, this box set offers an opportunity to own the films for half their original price.
Drunken Angel (Yoidore Tenshi), 1948, 94 mins
Toshiro Mifune, in his first major screen role, plays a small-time yakuza who embarks on an uneasy friendship with an alcoholic slum doctor, played by Toho regular Takashi Shimura. Drunken Angel is part gangster, part melodrama and part social critique, and establishes the on-screen chemistry and dynamics of these two leading men that Kurosawa was to explore in further films.
Stray Dog (Nora Ino), 1949, 117 mins
A masterful mix of film noir and police thriller set on the sweltering mean streets of occupied Tokyo. Kurosawa favourites, Mifune and Shimura, are paired for the second time as a rookie detective and his senior in a desperate hunt for a shooter with the former's stolen police pistol.
The Bad Sleep Well (Warui Yatsu Hodo Yoku Nemuru), 1960, 105 mins
The first feature brought out under the aegis of Kurosawa's own production company, The Bad Sleep Well is an impressive tale of corporate greed and corruption starring Mifune as a grieving son seeking revenge for his father's 'suicide'. It is a powerful indictment of the dark side of business and politics with distinct overtones of Hamlet.
High and Low (Tengoku to Jigoku), 1963, 143 mins
Based on an Ed McBain novel, High and Low is a gripping police thriller in which a wealthy industrialist, Mifune, faces an agonising choice when a ruthless kidnapper, aiming to snatch his young son, takes the chauffeur's boy by accident.
No extra features have been confirmed, although online retailers are suggesting that the set will be accompanied by an illustrated booklet.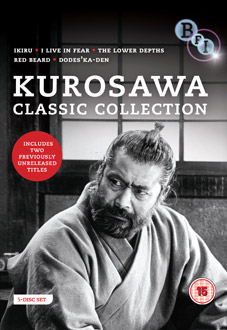 The Kurosawa Classics Collection contains five of the director's most revered films, and make anideal introduction to the work of the master filmmaker. The Kurosawa Classic Collection contains Ikiru, I Live in Fear and Red Beard, along with the two titles new to UK DVD, the acclaimed Maxim Gorky adaptation The Lower Depths and Kurosawa's first colour film Dodes'ka-den.
Ikiru (Living), 1952, 137 mins
Featuring a beautifully nuanced performance by Takashi Shimura as a bureaucrat diagnosed with stomach cancer, Ikiru is an intensely lyrical and moving film which explores the nature of existence and how we find meaning in our lives.
I Live in Fear (Ikimono no Kiroku), 1955, 99 mins
Made at the height of the Cold War, with the destruction of Hiroshima and Nagasaki still a recent memory, Toshiro Mifune delivers an outstanding performance as a wealthy foundry owner who decides to move his entire family to Brazil to escape the nuclear holocaust which he fears is imminent.
The Lower Depths (Donzonko), 1957, 120 mins
Once again working with Toshiro Mifune, Kurosawa adapts Maxim Gorky's classic play of downtrodden humanity. Set in a slum at the bottom of a ravine in which its inhabitants while away their time longing for escape or dreaming of a better life, he remains faithful to Gorky's exploration of the conflict between the comfort of illusion and bitter reality.
Red Beard (Akahige), 1965, 172 mins
The last and most ambitious of Kurosawa's collaborations with Toshiro Mifune, Red Beard chronicles the tumultuous friendship, in a nineteenth-century rural clinic, between an idle and socially ambitious intern (Yuzo Kayama) and Mifune's compassionate yet commanding doctor, and serves as testament to the goodness of humanity.
Dodes'ka-den, 1970, 134 mins
Kurosawa's first film in colour follows a group of people living around a city dump and is by turns both tragic and transcendent. Made at a critical point in his life, Kurosawa poured himself into this film and the negative reaction it garnered resulted in a suicide attempt.
The discs are accompanied by an illustrated booklet of film notes and credits and selected filmed introductions by director Alex Cox.