The culmination of Shohei Imamura's extraordinary examinations of the fringes of Japanese society throughout the 1960s, Profound Desires of the Gods was an 18-month super-production which failed to make an impression at the time of its release, but has since risen in stature to become one of the most legendary – albeit least seen – Japanese films of recent decades.
Presenting a vast chronicle of life on the remote Kurage Island, the film centres on the disgraced, superstitious, interbred Futori family and the Tokyo engineer sent to supervise the creation of a new well — an encounter which leads to both conflict and complicity in strange and powerful ways.
A tragic view of a passing epoch that teeters on the edge of grotesque farce, Imamura's merciless gaze combines with spectacular colour 'Scope photography to create a mythic saga convulsing with earthly impulses.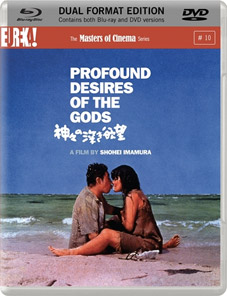 All of which will be old news to devotees of Masters of Cinema's Blu-ray output. Released on Blu-ray for the first time in June of last year, Profound Desires of the Gods was acclaimed as one of the best Blu-ray transfers of 2010. Now it's coming back as a dual format release from Masters of Cinema, containing both DVD and Blu-ray versions of the film, on 24th October 2011 at the RRP of £23.48.
Boasting what the press release describes as 'a spectacular new HD transfer of the film in the film's original 2.35:1 aspect ratio' (though this is likely referring to the transfer on the original release), the disc will have the following extras:
New video introduction by film scholar Tony Rayns;
Original Japanese theatrical trailer (in 1080p on Blu-ray);
44-page booklet with a new essay by Tony Rayns (to accompany his introduction); rare stills; two statements from Imamura; and a transcript of Imamura's introduction and Q&A session at the 1994 Edinburgh International Film Festival's screening of the film.
You can read our review of the Blu-ray here.