Four young people win a competition of a lifetime; Jo (Scarlett Alice Johnson – Adulthood), Max (Jack Gordon – Heartless) Gwen (Elen Rhys – Season Of The Witch) and Dave (Michael Jibson – Cemetery Junction) are heading off on an all expenses paid trip to New York courtesy of the social network site All2gethr.com. As they board the private jet, they are asked to relinquish their mobile phones and take part in the in-flight entertainment – a new online gaming experience. Once airborne the games begin, and it soon becomes evident through a series of twisted and sickening tasks, that the passengers' mystery host knows far more than they ever dared imagine, but are they all as innocent as they seem?
Trapped 30,000 feet in the air and with no escape, the four find themselves set on a horrific course, forcing them to play for their lives and leading to a gruesome and bloody twist. Panic Button is, we are assured, a breathless psychological horror film for the 21st century, when you live your life online, there is no Esc (ha ha).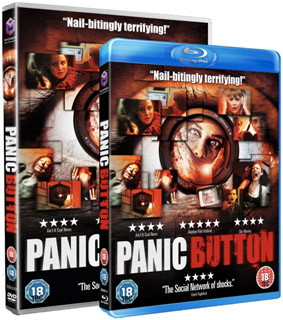 Panic Button will be released on UK DVD and Blu-ray by Cine-Britannia on 7th November 2011 at the RRP of £17.99 for the DVD and £24.99 for Blu-ray.
Extra features will include:
Trailer Gallery;
Short Film – Fixed Penalty;
Gag Reel;
Outtake & Deleted Scenes;
Making of Featurette;
Gallery.