Russ Meyer, it has been claimed, is one of cinema's few truly authetic auteurs, a man who wrote, produced, directed, photographed and edited his own film, as well as appearing in a good many of them. They were also instantly distinctive, sexpolitation films distinguished by their satirical wit, camp humour, outrageous titles and the breast size of their female stars. Now Arrow Films have brought 19 of his films together in a single box set for a late October release, and... hell, let's let the PR people have their pitch.
Vixens, Supervixens, Motor Psychos and Wild Gals, welcome to the pneumatic world of soft-core kingpin Russ Meyer, the man who did more than any other director in the history of cinema to exalt the female anatomy and celebrate their finest assets.

You'll see breasts so big they can barely be contained by the screen in Meyer's revolutionary pictures which combine his obsession for Amazonian women with outrageous sex, bawdy humour, brain scrambling fast cuts and sights you'd never imagine could be legally captured on film in mid 20th century America.

Journey beneath the valley of the Ultravixens, Get messy with Mudhoney and find out what perversions go on in the common law cabin in the Russ Meyer DVD collection.
All clear now?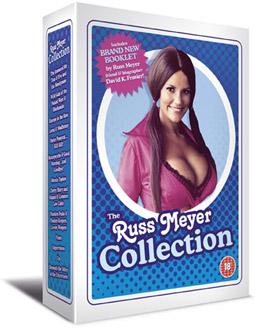 The Russ Meyer Collection, which has been subtitled "19 Uplifting Classics", will be released in the UK as a 13-disc DVD box set by Arrow Films on 31st october 2011 at the RRP of £59.99 (which is current being seriously discounted on Arrow's own site here).
The films included are:
The Immoral Mr. Teas (1959)
Eve and the Handyman (1961)
Wild Gals of the Naked West (1962)
Europe in the Raw (1963)
Lorna (1964)
Mudhoney (1965)
Faster, Pussycat! Kill! Kill! (1965)
Motor Psycho (1965)
Mondo Topless (1966)
Common Law Cabin (1967)
Good Morning... and Goodbye! (1967)
Finders Keepers, Lovers Weepers! (1968)
Vixen! (1968)
Cherry, Harry & Raquel! (1970)
Black Snake (1973)
Supervixens (1975)
Up! (1976)
Beneath the Valley of the Ultra-Vixens (1979)

Pandora Peaks (2001)
If this weren't enough, the following extra features are also included:
Brand new booklet by Russ Meyer friend and biographer David K. Frasier with new writing on Russ Meyer's career and unpublished interviews with King Leer himself!;
Audio commentary by the Pussycats on Faster, Pussycat! Kill! Kill!;
Original Audio Commentaries by Russ Meyer on Vixen, Supervixens, Beneath the Valley of the Ultravixens and Faster, Pussycat! Kill! Kill!;
Vixen Featurette;
Erica Gavin Photo Album;
Featurette on Kitten Natividad;
Interview with Kitten Natividad;
Interview with Russ Meyer by Jonathan Ross;
Featurette with Ravon Delacroix;
Go Pussycat Go featurette;
Trailer Reel.