Launched in May 2009, the BFI's Flipside label has dedicated itself to unveiling the hidden history of British cinema, drawing upon materials preserved by the BFI National Archive. To date, the series has published over 60 films (features and shorts), and has met with universal acclaim, gathering a number of high profile admirers along the way. The BFI have even provided a few quotes to back this claim up:
"Every time BFI Flipside releases a newly discovered film I always go and get it. It's like finding lost treasure." – Nicolas Winding Refn (Award-winning director of Pusher, Bronson and Drive).

"The Flipside is Britain's most far-out DVD label – bold film choices, gorgeous transfers, imaginative extras. Every release a revelation." – Writer and critic Kim Newman

"Flipside provides a window onto a time in British cinema when real film artists stalked our land."
– Ben Wheatley (Award-winning director of Kill List)
We're also big fans ourselves, although the horrible curses of time and workload have meant that our coverage of the releases has dropped off of late, but all still come warmly recommended.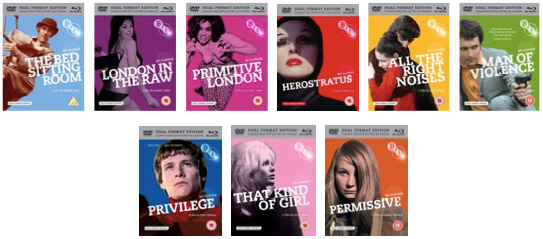 On 24th October 2011, the BFI is reissuing the first nine of its Flipside titles in Dual Format Editions (each containing DVD and Blu-ray versions), bringing them in line the rest of the collection. The new retail price for each title will be £19.99, and the previous stand-alone DVD and Blu-ray versions will be deleted. The re-issued titles are detailed below – click the individual titles to read our reviews of the original releases:
001: The Bed Sitting Room (Richard Lester, 1969)
002: London in the Raw (Arnold L. Miller, 1964)
003: Primitive London (Arnold L. Miller, 1965)
004: Herostratus (Don Levy, 1967)
005: All the Right Noises (Gerry O'Hara, 1969)
006: Man of Violence (Pete Walker, 1970)
007: Privilege (Peter Watkins, 1967)
008: That Kind of Girl (Gerry O'Hara, 1963)
009: Permissive (Lindsay Shonteff, 1970)
Sam Dunn, Head of BFI Video Publishing, who programmes the titles for the label, comments: 'Making Flipsides 001-009 available in Dual Format Editions not only unifies the collection, but also offers viewing flexibility and ensures that expensive format upgrading will never be necessary for anyone who buys any title in this exciting series.'
Also on 24 October, the BFI releases Flipside numbers 020 (Little Malcolm and His Struggle Against the Eunuchs – Stuart Cooper, 1974) and 021 (Voice Over – Christopher Monger, 1981).