In an attempt to distance himself from the strict religious Hittite community in which he was raised – one that rejects all the trappings of modern life – Jim Schmidt (Douglas Barr) has married a headstrong city girl, Martha (Maren Jensen), and left the sect. When Jim is involved in a tragic and highly mysterious accident, the close-knit community shuns Martha, leaving her to seek the comfort of two old college friends, Lana (Sharon Stone) and Vicky (Susan Buckner), who come to stay with her during her time of mourning. As the three friends begin to unlock the mystery surrounding Jim's death, it becomes apparent there is a diabolical killer in their midst who may be hiding deep within the local God-fearing community.
Starring a youthful Sharon Stone (Casino; Basic Instinct; Total Recall) in her first ever film speaking role, alongside Ernest Borgnine (Escape From New York; The Wild Bunch; Marty), Michael Berryman (The Devil's Rejects; The Hills Have Eyes) and Maren Jensen (Battlestar Galactica), Deadly Blessing sees director Wes Craven (A Nightmare On Elm Street; Scream) moving away from the uncompromising ferocity of his first two features (The Last House On The Left and The Hills Have Eyes) to focus on a more brooding and atmospheric kind of terror.
Fondly remembered by horror fans for its many key set-pieces (particularly one featuring a snake in a bathtub and a waking-dream sequence involving a very large spider and a wide-open mouth that serves as a notable precursor to Craven's masterful A Nightmare On Elm Street), Deadly Blessing is a criminally unseen and under-appreciated early Craven work that continues the fascination with opposing family groups explored to such memorable effect in The Hills Have Eyes.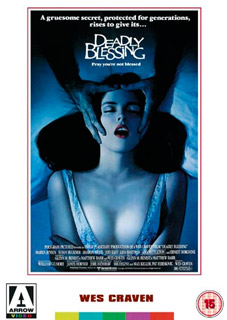 Deadly Blessing (cert. 15) will be released on DVD by Arrow Video on 14th November 2011 at the RRP of £15.99.
The following extras will be included:
Introduction by actor Michael Berryman;
Craven Images: The Horror Hits of Michael Berryman – an interview with Deadly Blessing's iconic co-star;
Deadly Desires – an interview with screenwriter Glenn M. Benest;
Original trailer;
Easter eggs;
Reversible sleeve with original and newly commissioned artwork by Rue Morgue art director Gary Pullin;
Double-sided fold-out artwork poster;
Collectors' booklet featuring brand new writing on the film by author and critic Kim Newman.