John Eastland has been to Vietnam and he's seen things... things you wouldn't believe. Having survived a torture ordeal and witnessed the brutal deaths of his friends, he returns home to a tough neighbourhood in New York and his loving family. But when some local thugs take a dislike to his best friend Mike, leaving him paralysed, something snaps in Eastland. Did he fight the Vietcong for this? Taking the law into his own hands, the former marine sets out to clean the streets of every low-life, good-for-nothing gangbanger, mobster and ghetto ghoul across the city in a savage orgy of vigilante vengeance.
Notorious at the time of its original 1980 theatrical release for its decapitation sequence and other scenes of graphic violence, The Exterminator comes to Blu-ray for the first time in the UK boasting a host of extra features that include an introduction to the film by director by James Glickenhaus (McBain: The Protector) and an audio commentary by the film's producer, Mark Buntzman (Love Kills; Exterminator 2). This cult vigilante action-thriller stars Robert Ginty (Coming Home), Samantha Eggar (The Astronaut's Wife; The Phantom; The Brood) and Christopher George (City Of The Living Dead).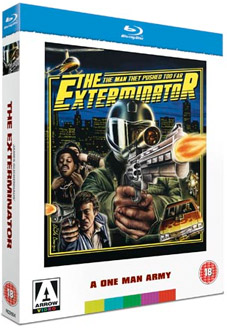 The Exterminator (cert. 18) will be released on UK Blu-ray by Arrow Video on 7th November 2011 at the RRP of £24.99.
Extra features will include:
Introduction to the film by director James Glickenhaus;
Fire And Slice: Making The Exterminator – an interview with James Glickenhaus;
42nd Street Then And Now – a tour of New York's former sleaze circuit with director Frank Henenlotter;
Audio commentary by Mark Buntzman, producer of The Exterminator and writer-director of The Exterminator II, moderated by Calum Waddell;
Collectors' booklet featuring brand new writing on the film by critic David Hayles;
Reversible sleeve with original and newly commissioned artwork;
Double sided fold out artwork poster.