The BFI's fascinating film collections from Britain's Central Office of Information (you can read Jerry Whyte's extensive review of Volume Five here) continue in November with a volume that examines the issue of 'risk' in our everyday lives. It features almost 50 films, from the 1940s to 2000, all peppered with the COI's characteristic mix of horror, humour, famous faces and gentle persuasion.
Complimenting the safety messages in the earlier Volume Four, Stop! Look! Listen!, the films on Worth the Risk? offer advice on crossing the road, sensible drinking, playing with matches, the Welfare State, the complexities of decimalisation, surviving nuclear attack... and much, much more.
Among the many highlights are: Skateboard Safety (1978), play safe 'you mad skateboard dogs'; Charley's March of Time (1948), pioneering animation explains the workings of the new Welfare State; Green Cross Code (1973), David Prowse is on hand to admonish and advise; Hole in the Ground (1962), an unnerving civil defence film from the Cold War era; Say No to Strangers (1981), Bernard Hill, Brenda Blethyn and Timothy Spall star in this creepy and uncompromising film; Laughing Matter (circa late 1970s), Robbie Coltrane's stand-up routine isn't funny; Passing Places (1973), a bluegrass style road safety song from a young Bill Patterson and Peach and Hammer – Carol Hill (1973), the unforgettable road safety film by director John Krish.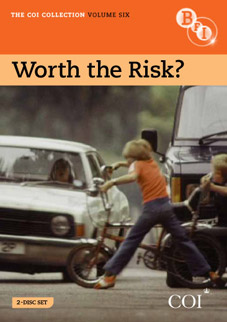 The COI Collection: Volume Six – Worth the Risk? will be released on UK DVD by the BFI on 7th November 2011 at the RRP of £19.99.
The films included are:
Disc 1
Mr Jones Takes the Air (1946)
Child Cycling Proficiency / Cyclists Turning Right (1950s)
Car Booty – Gnomes (mid 1970s)
Look Back (early 1960s)
Worth the Risk? (1948)
Motorcycle Fashion Scene (1965)
Your Turn (mid 1970s)
Welephant (1986)
Pop Goes the Weasel (1948)
Family Income Supplement – Clothes (early 1970s)
Motorcycle Love Affair (1975)
Grain Drain (1975)
Charley's March of Time (1948)
Employment Service Agency – Moving (early 1970s)
Another World (1980)
Disco (1989)
Another Case of Poisoning (1949)
Skateboard Safety (1978)
Green Cross Code – He's Great (1973)
Clem and Lydia (2000)
Answer to Emergency (1962)
Pride in Driving (early 1960s)
Hand (early 1970s)
Zig Zag – Remember the Rules (early 1970s)
Green Cross Code – Julie Saves a Life (early 1970s)
Disc 2
The Hole in the Ground (1962)
Join the UDR (early 1970s)
Peach and Hammer – Carol Hill (1973)
UDR – Car Bomb (early 1970s)
Look... Signal... Manoeuvre (1965)
Wear Bright Gear (1971)
Older Pedestrians – Time (1971)
Green Cross Code – Blockhead Boy (1973)
Granny Gets the Point (1971)
Don't Just be a Clunker (mid 1970s)
Take an Adult (early 1970s)
Dave (1990)
The Motorway File (1975)
Passing Places (1973)
Laughing Matter (late 1970s)
Under Your Feet (early 1970s)
Say No to Strangers (1981)
Green Cross Code – Blockhead Girl (1973)
Fire is a Nightmare – Tom (mid 1970s)
New Markings for Zebra Crossings (1971)
The extra features will be:
The Furry Folk on Holiday (1967, 13 mins): Tufty and his friends take a trip to the seaside; luckily Policeman Badger is on hand to save the day;
Play Safe (1978, 11 mins): Bernard Cribbins and Brian Wilde warn against the dangers of playing near electricity;
Illustrated booklet with notes and essays from film historians and filmmakers.