When Ruggero Deodato, the director of über-controversial Cannibal Holocaust, teamed up with David Hess, the notorious Krug in The Last House On The Left, their maverick talents exploded in the feat of unrelenting sleaze that is The House On The Edge Of The Park (1980).
Alex (Hess) is a psychopath and his friend Ricky (Giovanni L. Radice) an easily led simpleton. When the unlikely pair is invited to an upscale house party where they are ridiculed by their debauched young hosts, Alex decides that he and his straight edged razor deserve some fun. Together the two streetwise punks take the unprepared partygoers on a journey of violence, debasement and forced sex. And that's before events turn really nasty…
Deodato's unwavering gritty direction keeps the tension tight and the psychological nuances of Hess and Radice's performances deliver uncomfortably challenging scenes so close to the bone that this originally banned Video Nasty remains one of the most contentious pictures in UK censorship history. Even today the film has not been passed uncut, with the BBFC insisting on 42 seconds of cuts to award it an 18 certificate.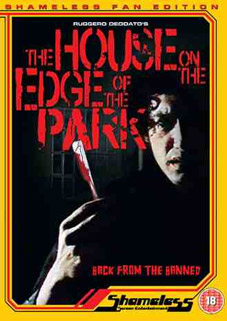 The House On The Edge Of The Park (cert. 18) will be released on DVD by Shameless Screen Entertainment on 31st October 2011 at the RRP of £15.99.
The disc will have English and Italian audio options and the special Features will include:
Exclusive interview with star David Hess and director Ruggero Deodato;
Introduction by David Hess;
Debate with Deodato, star Radice and the UK Censors;
David Hess on censorship;
Theatrical trailer.