Deep within this remote landscape, facing the most hostile conditions on earth, 300 people inhabit the small Bakhtia. There are only two ways to reach this outpost, by helicopter and by boat. In this wilderness there are no phones, no running water, no medical aid. The people live according to their own values and cultural traditions, which have remained unchanged for centuries.
Groundbreaking director Werner Herzog presents yet another awe-inspiring documentary, Happy People: A Year in Taiga following the lives of the indigenous people living in the heart of the Siberian Taiga.
Following his acclaimed films Grizzly Man, Encounters at The End Of The World and Cave Of Forgotten Dreams, prsenter and co-writer Werner Herzog explores a fascinating untouched world in this outstanding feature-documentary directed by first-timer Dmitry Vasyukov.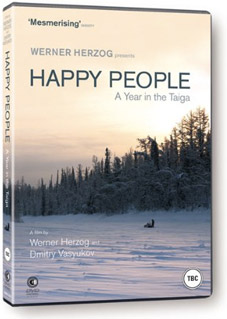 Happy People: A Year in Taiga will make its UK DVD debut on 28th November 2011 courtesy of Second Sight at the RRP of £15.99.
No extra features have been listed.