Driven by his curiosity regarding a supposed archeological excavation located on a mountain near his remote rural home, young and adventurous Pietari stumbles upon the shocking, ugly truth about the being known the world over as Santa Claus. Local legend suggests the jolly old man in the red suit was in reality a supernatural creature that, rather than rewarding children for being good, severely punished those who were naughty. When a large herd of reindeer on which Pietari's father depends for his livelihood is found slaughtered, the townsfolk suspect it is the work of hungry wolves that have crossed into the area from the nearby slopes. But when all the local children mysteriously disappear overnight, Pietari fears the scientists on the mountain have unearthed something extremely sinister and very much alive from what is apparently "the largest burial mound in the world."
"Eighties-vintage Joe Dante and Spielberg are the reference points" claims Total Film in its four star review of Finnish director Jalmari Helander's critically acclaimed debut feature, which Total Sci-Fi has called "a fun family fright flick" and Little White Lies regards as "one of the best (and most brutal) festive kid's films in years."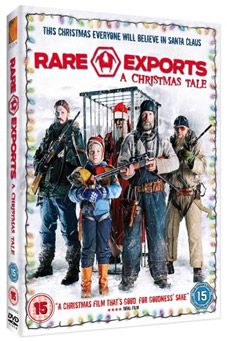 Rare Exports: A Christmas Tale (cert. 15) will be released on DVD and Blu-ray by Icon Home Entertainment on 7th November 2011 at the RRP of £15.99 for the DVD and Blu-ray alike.
No extras have been listed.