Martel Gordone (Leon Isaac Kennedy) is a hitchhiker who gets into a fight with a pair of bikers over a prostitute. One of the biker dies and Martel finds himself in prison with the moniker "Too Sweet" because of his love of candy bars. Soon, he is a hardened but pragmatic inmate who joins the prison boxing team in an effort to secure an early parole. Standing in his path however is "Half Dead Johnson", a member of the prison's most violent gang.
A potent combination of Blaxploitation, prison movie and social commentary, Penitentiary busted genres and galvanized audiences from the art houses to the inner city, becoming a cornerstone of urban independent film for generations.
A real Grindhouse cinema original and an undisputed Blaxploitation cult classic, Penitentiary was one of the most commercially successful independent feature films of the early 1980s, inspiring many imitators and spawning two sequels. Written and directed by one of the leading pioneers of the "L.A. Rebellion" film movement, Jamaa Fanaka (Street Wars), Penitentiary comes to DVD in February 2012 with a release that boasts an audio commentary by the director and includes the full-length bonus feature Penitentiary II.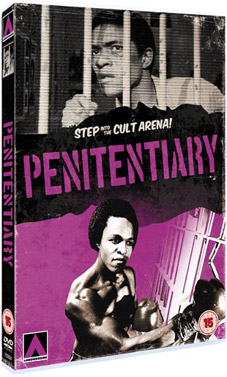 Penitentiary will be released on UK DVD By Arrow as part of the ArrowDrome label on at the RRP yet to be confirmed on 13th February 2012.
Extra features will include:
Audio commentary with director Jamaa Fanaka;
Trailers;
Penitentiary II feature.