Facing the age-old problem of writer's block, novelist Marian Walker (Carrie Preston) turns to her mentor and ex-lover, Jackson (Austin Pendleton). But his seemingly innocent advice to kill the book's protagonist unexpectedly leads one of her wilful characters (Michael Chernus) to escape from the novel and stir up the unresolved issues in her life.
At turns funny, lyrical, dark and mysterious, this enigmatic and visually striking film festival favourite explores past and present, art and reality, and the meaning of life and death, ultimately revealing the strength and beauty of the human heart.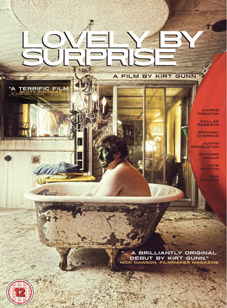 Lovely by Surprise will be released on UK DVD by Eureka Entertainment on 26th December 2011 at the RRP of £16.34.
The following extras have been confirmed:
Feature length Director's commentary;
Trailer;
Deleted Scene.