Laura looks after her father and younger brother in humble circumstances in the Mexican border city of Baja. She dreams of becoming a beauty queen, and when her friend invites her to enter a local beauty pageant, she jumps at the chance. But the night before the audition, Laura is witness to a gangland massacre and becomes inadvertently drawn into the darkest elements of Mexico's criminal underworld.
Shot in a series of long, fluid and always purposeful takes, Miss Bala (which translates literally as "Miss Bullet"), Gerardo Naranjo's Oscar-nominated follow-up to his acclaimed 2008 I'm Going to Explode (Voy a explotar), is an intense, sobering but utterly compelling socio-political thriller, with a compelling central performance from former model Stephanie Sigman.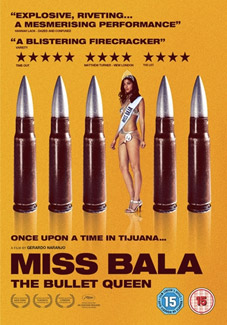 Acclaimed as "Gripping and provocative" by Empire and "Ferociously gripping...one of the most remarkable films of the year" by The Big Issue, Miss Bala will be released on UK DVD on 20th February 2012 by Metrodome at the RRP of £19.99.
Disappointingly, there are no extra features on the disc.