Arguably the defining cult film of the Reagan era, and a long time personal favourite here at Outsider, the feature debut of Alex Cox (Sid & Nancy, Walker, Straight to Hell, A Revenger's Tragedy) is a genre-busting mash-up of atomic-age science fiction, post-punk anarchism, and conspiracy paranoia, all shot through with heavy doses of deadpan humour and offbeat philosophy.
After quitting his dead-end supermarket job, young punk Otto (Emilio Estevez) is initiated as a "repo man" after a chance encounter with automobile repossessor Bud (Harry Dean Stanton). An illicit, high-voltage life follows, including an adrenalised search for a mysterious '64 Chevy Malibu loaded with radioactive – and extragalactic – cargo...
With an iconic soundtrack (Iggy Pop, Black Flag, Suicidal Tendencies), stunning Robby Müller cinematography, and iconoclastic direction, Repo Man remains one of the great debut films of the 1980s.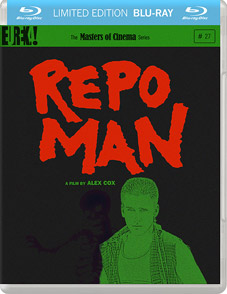 Voted by Entertainment Weekly as one of the top-ten best cult films ever, Reop Man will make its UK Blu-ray debut on 20th February 2012 as a definitive, director-approved release from Masters of Cinema at the RRP of £20.42 for the regular Blu-ray, or £30.63 for the Steelbook Edition.
Featuring a new high-definition master in the original 1.85:1 aspect ratio, the original mono soundtrack and 5.1 remix, both in DTS-HD Master Audio, and English SDH subtitles on the main feature, the disc will also contain the following extras:
Isolated music and effects track;
Audio commentary with Cox and executive producer Michael Nesmith, casting director Victoria Thomas, and actors Sy Richardson, Zander Schloss, and Del Zamora;
All-new 2012 video piece by Cox offering further thoughts on the film;
Repo Man (entire TV version) – this legendary variant, prepared by Cox for network television, incorporates deleted material and surreal overdubs in place of profanity;
Repossessed – a retrospective video piece on the making of the film, featuring Cox, producers Peter McCarthy and Jonathan Wacks, and actors Del Zamora, Sy Richardson, and Dick Rude;
The Missing Scenes – a roundtable viewing of deleted scenes from the film with Cox, executive producer Michael Nesmith, real-life neutron bomb inventor Sam Cohen, and character "J. Frank Parnell";
Up Close with Harry Zen Stanton – an extended interview with the legendary actor;
Original theatrical trailer;
A 48-page full colour booklet specially created by Cox, entitled The Repo Code and incorporating all manner of Repo ephemera.