Second Run conitnue their quest to bring important but too rarely seen films to UK DVD later this month with Argentinean filmmaker Lisandro Alonso's fourth feature (after Freedom, Los Muertos and Fantasma), Liverpool.
A sailor, Farrel, leaves his ship and begins a lengthy journey to wintry Tierra del Fuego's interior, to an isolated village and family that he hasn't seen in years. The route seems familiar to him, and we gradually piece together his relationship with the people and community he finds there. From the opening sequences on Farrel's ship, to the spectacular harshness of his destination, Alonso is meticulous in mapping the sights and sounds of the landscape and Farrel's personal journey into the past.
Heralded at film festivals around the world, and described by Daniel Kasman of MUBI as "One of the great films of our times... I feel something in Liverpool that is so special and so rare in cinema these days," Liverpool has established Lisandro Alonso as one of contemporary cinema's most acclaimed and exciting filmmakers.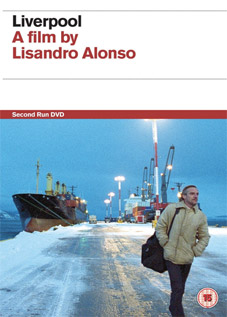 Liverpool will be released on UK DVD on 23rd January 2012 by Second Run at the RRP of £12.99.
Presented in a new anamorphic 16:9 digital transfer, approved by the director with new and improved English subtitle translation, the disc will have the following extras:
Untitled (Letter for Serra)/Sin título (Carta para Serra) – a new short film by Lisandro Alonso, available for the first time anywhere on DVD;
Alonso on Camera – newly filmed by the director exclusively for this release.