It's hard not to have a fondness for Sid James, a South African comedy performer with a spectcularly filthy laugh who almost upstaged Tony Hancock and became a lynchpin of the Carry-On series. He had a TV hit in the early 70s with Bless This House, but a decade earlier starred as Sidney Balmoral James in Citizen James.
This long-lost classic comedy series makes its DVD debut in February, featuring the only known surviving episodes, the complete series one, and two episodes each from series two and three. In series one written by Alan Simpson and Ray Galton (Hancock, Steptoe & Son), Sid is a hard-working layabout, gambler and con-artist, hanging out on the streets of Soho with his sidekick Bill (the great Bill Kerr), in Charlie's Nosh Bar and occasionally paying a visit to his long-suffering fiancée Liz (Liz Fraser), to borrow money to pay off his gambling debts and cons gone wrong. Series two and three written by Sid Green and Dick Hills (Morecambe and Wise), finds Sid with a new sidekick Charlie (Sydney Tafler), as they take on teenagers, watchdogs, trial by jury and a very crusty loaf.
The programme boasts a wonderful supporting cast including, John Bluthal, Patricia Hayes, Bob Todd, Frank Thornton, Irene Handl, Lance Percival, Derek Nimmo and film star Cecil Parker.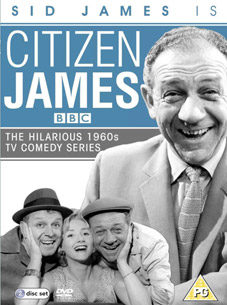 Citizen Sid will be released on UK DVD as a two-disc set on 6 February 2012 by Acorn Media at the RRP of £19.99.
Special features will include:
Exclusive interview with Liz Fraser;
Galton and Simpson on Citizen James.