The BFI's wonderful Flipside series continues in February with the dual format release of Norman J. Warren's 1967 Her Private Hell.
This cautionary tale of an innocent girl abroad caught up in London's sleazy world of modelling was Britain's first narrative sex film. Starring the Italian actress Lucia Modugno (Il generale Della Rovere, Danger: Diabolik), and directed by Norman J Warren, Her Private Hell put Britain on the map in the realm of home- grown adult features. The storyline features beautiful but naïve Marisa who arrives from the continent for a job as a fashion model, but soon discovers she's being groomed for a different purpose.
By the late 1960s, British producers had begun to realise the commercial potential of sex and to test the limits of what the censors would permit on screen. Producer Bachoo Sen, a distributor who imported art-house titles to the UK, set up Piccadilly Pictures with cinema-owner Richard Schulman and financed Her Private Hell. It premiered at London's Cameo-Royal cinema on 4 January 1968 and was so popular that it ran for over a year.
The film was the debut feature for young director Norman J Warren (Satan's Slave, Prey and Terror). Looking back at it now, 45 years on, he says: "Why it got so much publicity and why it was so successful was that the sex situation in this country was so naïve and innocent and you were so restricted."
Her Private Hell features a screenplay by Glynn Christian, best known as BBC Breakfast Time's resident chef in the 1980s, and a distinctive jazz soundtrack by renowned musician and composer John Scott.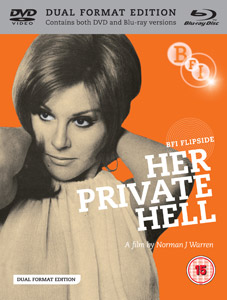 Previously unreleased, Her Private Hell finally comes to DVD and Blu-ray for the first time on 20th February 2012 in a Dual Format Edition on the BFI's celebrated Flipside label. The new, director-approved High Definition transfer is accompanied by the following extras:
Original Her Private Hell trailer;
Alternative US sequences (1967, 3 mins) uncensored footage;
Screen tests (4 mins, mute): including footage of Udo Kier;
Inside Her Private Hell (2011, 15 mins): cast and crew interviews;
Incident (Norman J Warren, 1959/2007, 13 mins): Warren's enigmatic first film;
Fragment (Norman J Warren, 1966, 11 mins): exquisite short about a woman's
unhappiness after a failed love affair;
The Anatomy of a Pin-up (David Cohen, 1971, 31 mins) modish documentary about
Britain's nude modelling industry;
Illustrated 34-page booklet with new essays and contributions from Norman J. Warren, Josephine Botting, David Cohen, Lynn Barber; original promotional materials and full film credits.