Bounty Films continue their quest to bring key works of modern Japanese exploitation cinema to UK DVD and Blu-ray in March with Tak Sakaguchi and Yûdai Yamaguchi's Yakuza Weapon (Gokudô heiki).
Working as a hard-to-kill mercenary in South America, ex-yakuza Shozo Iwaki (Tak Sakaguchi) is informed of the death of his gang boss father, Kenzo (Akaji Maro). Returning home after four years, Shozo discovers that his father's number-one man, Kurawaki (Shingo Tsurumi), has double-crossed and assassinated Kenzo, leaving Shozo not only in charge of what little remains of the Iwaki Family, but also burning with the desire for vengeance. After a titanic battle in which an entire building is levelled, both Shozo and Kurawaki are left barely alive, Shozo missing an arm and a leg.
Despite his debilitating wounds, the nearly superhuman Shozo clings to life, and wakes up in a mysterious medical facility with an M61 Vulcan cannon in place of his right arm, and a rocket launcher where his left leg used to be! Although confused by his new body and tormented by the pain it brings him, Shozo quickly learns to love his weaponized frame, and makes himself ready for a rematch with Kurawaki, who also has some mechanical improvements of his own.
But before that, Shozo must also deal with Tetsuo (Jun Murakami), his former best friend who's fallen into drugs and hard times, and has been coerced by the Kurawaki gang to find and kill Shozo! Nearly a match for Shozo's strength and fighting ability, Tetsuo also has a mechanical secret: his younger sister Sumire (Cay Izumi), who's been transformed into a naked weapon, using the same technology that gave Shozo his arm and leg! But can Shozo bring himself to destroy his own best friend, the only thing standing between him and final vengeance?
Co-directed by Yudai Yamaguchi and Tak Sakaguchi, who between them have created crazy, action-filled comedies like Battlefield Baseball, Meatball Machine, Mutant Girls Squad and Deadball, and featuring action direction by Yuji Shimomura (Death Trance, Versus, Shinobi), special makeup effects by Yoshihiro Nishimura (Tokyo Gore Police, Helldriver) and based on an adult comic by Ken Ishikawa, who co-created Cutie Honey, Getter Robot and many other famous series, Yakuza Weapon is a wild combination of hard-boiled gangster action, manga-style comedy and splatterific special effects.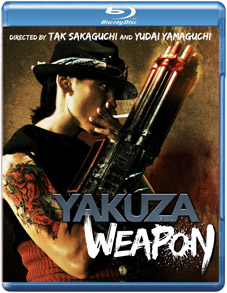 Yakuza Weapon will be released on UK DVD and Blu-ray on 26th March 2012 by Bounty Films at the RRP of £18.37 for the DVD and £20.42 for the Blu-ray.
There could well be some extra features, but they will be confirmed nearer the release date.