Has it really been fifty years since super-smooth British secret agent James Bond made his movie debut in Dr. No and kicked off one of the most successful movie franchises in film history? Apparently so. Of course, most of us have a particularly favourite actor, and usually one we weren't that keen on (I'm not going to get into that here, but I've always been a Connery man), so the announcement from Twentieth Century Fox Home Entertainment that all 22 James Bond films from Dr. No to A Quantum of Solace are to be release on Blue-ray in one sizeable box set puts many of us in a bit of a quandry, as to get the films we want we may have to buy a few we could live without. If, however you enjoy Bond in all his guises then you could be in high-def heaven here. I'll hand over to Fox's press release for the showbiz talk:
las Vegas, NV (Jan. 10, 2012) – In celebration of James Bond's monumental golden anniversary, Metro-Goldwyn-Mayer Studios and Twentieth Century Fox Home Entertainment today unveiled Bond 50, a collectible box-set featuring all 22 James Bond films on Blu-ray Disc for the first time in one complete offering. The longest running film franchise of all time, the Bond 50 collection marks the debut of nine James Bond films previously unavailable in high definition Blu-ray. Fans around the world can pre-order now with participating online retailers*.

Acclaimed Bond directors John Glen (five Bond films including For Your Eyes Only, Octopussy, A View to a Kill, The Living Daylights & Licence To Kill), Martin Campbell (GoldenEye, Casino Royale) and Michael Apted (The World Is Not Enough) with special guests Olga Kurylenko (Quantum of Solace) and Caterina Murino (Casino Royale) made the Blu-ray announcement today during a Directors' Panel discussion in the Panasonic Booth at the annual Consumer Electronics Show.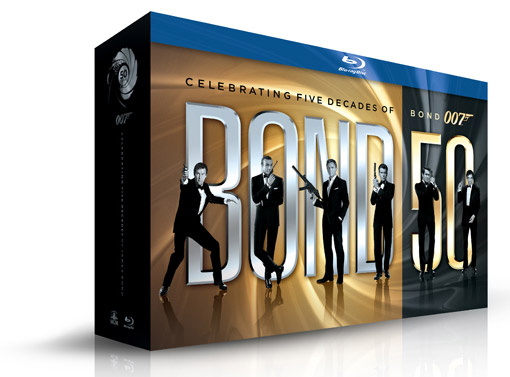 Bond 50 showcases fifty years of Bond neatly packaged into one cool, sleek collectable box-set featuring all six iconic James Bond actors. Produced using the highest possible picture quality and audio presentation, the collection includes all 22 James Bond feature films from Dr. No to Quantum of Solace and more than 130 hours of bonus features including some new and exclusive content.

"With all 22 feature films available on Blu-ray in one collection for the first time this is a great way for fans to catch up on 007's epic journey before Skyfall hits theaters next Fall," said Michael Brown, Senior Vice President, MGM Home Entertainment. "Now viewers can enjoy the intense action of the innovative franchise in the most immersive home experience possible."
Given that a spareting of the films have been available on Blu-ray for some time now (and look superb), the hope is that this set will be followed by stand-alone Blu-ray releases of the individual films for those of us looking to complete our personal collections. Somewhat oddly, no release date has yet been confirmed, though given we're talking about 22 blu-rays with 130 hours of extras, it's perhaps no surprise that there is also no confirmation yet of the retail price. Expect it to be a lot.
Details on the extras, we hope, will follow. But here's the video promo, which is strangely not in hi-def: