Fumiya has been a university student for eight years, leads a lazy life and owes money to loan sharks. One day, a man named Fukuhara comes to collect the loan, which Fumiya cannot pay. So Fukuhara makes a proposition: he will cancel the debt as long as Fumiya agrees to walk with him across Tokyo to the police station of Kasumigaseki, where he intends to turn himself in for a crime he deeply regrets. Not having much choice, Fumiya accepts the deal. Thus begins their journey which will lead them to various unusual encounters, most of all with themselves.
Based on the original novel by Naoki Prize winner Yoshinaga Fujita, Adrift in Tokyo (Tenten) is a fascinating, humorous and intelligent film from Japanese director Miki Satoshi, who gave us Instant Swamp and the brilliantly titled Turtles are Surprisingly Fast Swimmers (Kame wa igai to hayaku oyogu). It won Best Script and Best Film (Special Mention) at the Fantasia Film Festival and Best Supporting Actor at Japan's Kinema Junpo Awards. And if you really want to build your anticipation, try this opening paragraph from Todd Brown's review at Twitch:
"With only five feature films to his credit thus far it seems a bit premature to say that Adrift In Tokyo is writer-director Miki Satoshi's masterpiece. He's got a lot more film left in him, after all, and who knows what he'll come up with next. But, by god, he's got a hard road ahead of him if he expects to top this one, a film that any director of any nationality would be proud to have on the resume."
OK, we're interested.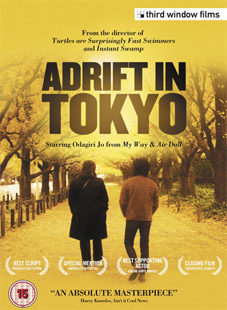 Adrift in Tokyo will be released on 27th February 2010 by Third Window Films at a to be confirmed RRP.
Special features will include:
A 70 minute 'Making of documentary;
Theatrical trailer.