Eva (Tilda Swinton) puts her ambitions and career aside to give birth to Kevin. The relationship between mother and son is difficult from the very first years. When Kevin is 15, he does something irrational and unforgivable in the eyes of the community. Eva grapples with her own feelings of grief and responsibility. Did she ever love her son? And how much of what Kevin did was her fault.
One of the films just about everyone was talking about at this year's London Film Festival, where it won Best Film, the third feature from Lynn Ramsay, her first in nine years following the superb Ratcatcher and Mervern Callar, was one of the most critically acclaimed films of 2011, and was today nominated for Outstanding British Film at the 2012 Orange British Academy Film Awards, to take place 12th February at London's Royal Opera House. The wonderful Tilda Swinton, who puts in yet another exceptional performance, has also been nominated in the Leading Actress category, with Lynne Ramsay up for Best Director. This continues the critical success for the film, with director Lynne Ramsay having already picked up the award for Best Director at the 2011 British Independent Film of the Year Awards.
We Need to Talk About Kevin also stars John C. Reilly (Magnolia, Boogie Nights) and a truly mesmerising performance from Ezra Miller (City Island) as the titular Kevin. The film was also the only British film to be officially selected for the 2011 Cannes Film Festival and was shot by Oscar nominated cinematographer Seamus McGarvey (Atonement).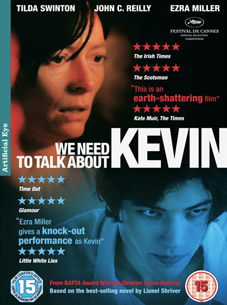 We Need to Talk About Kevin will be released on UK DVD and Blu-ray on 27th February 2012 by Artificial Eye, at the RRP of £17.99 for the DVD and £19.99 for the Blu-ray.
Both discs wil have the following extras:
Interviews with cast and crew;
Trailer.
Talking of trailers...