Eureka are upgrading eight of their previously released titles this month to dual format editions containing both DVD and Blu-ray versions of the film and extras, titles that have recently become hard to get hold of due to last year's fire at Sony's Enfield plant.
These upgrades are for Kurosawa Kiyoshi's Tokyo Sonata, Johnnie To and Wai Ka Fai's Mad Detective, Jean-Luc Godard's Une Femme mariée, Imamura Shohei's Vengeance is Mine, Clade Laloux's La Planète Sauvage, Frank Tashlin's Will Success Spoil Rock Hunter?, Ichikawa Kon's Burmese Harp and Jia Zhangke's The World (not previously available in a DVD format).
All will be released on 13th February 2012 at the RRP of £20.42 apiece. Full details below.
Mad Detective (Masters of Cinema)
2007's largest grossing film at the Hong Kong box office – the smash-hit Mad Detective – is one of the freshest and most satisfying films from that country in a decade. The traditional Hong Kong police film is turned on its head: the imaginative twist being our hero – Detective Bun (a role created for Lau Ching Wan) – who has the ability to 'see' people's inner personalities or "hidden ghosts". Breaking new ground and establishing new cinematic rules, Johnnie To's latest giddily entertaining collaboration with Wai Ka Fai radically raises the level of storytelling in modern film. This ingenious realisation of a supernaturally gifted copper is fast-paced and furious, yet also complex and disturbingly funny.
Detective Bun (Lau Ching Wan) was recognised as a talented criminal profiler until he sliced off his right ear to offer as a gift at his chief's farewell party. Branded as 'mad' and discharged from the force, he has lived in seclusion with his beloved wife May (Kelly Lin) ever since. Strangely, Bun has the ability to 'see' a person's inner personality, their subconscious desires, emotions, and mental state. When a missing police gun is linked to several heists and murders, hotshot Inspector Ho (Andy On) calls on the valuable skills of his former mentor Bun to help unlock the killer's identity. However, Bun's unorthodox methods point to a fellow detective and take a schizophrenic turn for the worse...
1080p, 24fps, state of the art AVC encode, 2.35:1 original aspect ratio;
DD2.0, DD5.1, DTS-HD Master Audio, and Dolby TrueHD soundtracks;
NTSC extras, playable on all machines;
2.35:1 original aspect ratio;
Carefully created new English subtitles;
Q&A with Johnnie To at the Cinémathèque Française Johnnie To retrospective (Paris, France, March 2008) - 35 minutes;
Exclusive cast interviews shot during the Far East Film Festival featuring Lau Ching Wan, and Lam Suet (Udine, Italy, April 2008) - 14 minutes;
Interview with Johnnie To for the French theatrical release of Mad Detective (France, 4th March 2008) - 21 minutes;
Original UK theatrical trailer;
16-page booklet containing specially commissioned essay by David Bordwell (Jacques Ledoux Professor of Film Studies, University of Wisconsin-Madison).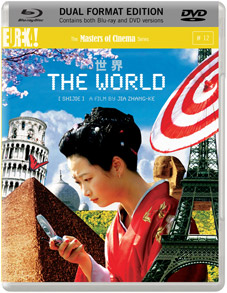 The World (Masters of Cinema)
The fourth feature by internationally acclaimed auteur Jia Zhangke was also his breakout success, an epic with a canvas as vast, and intimate, as its title suggests: a state-of-the-modern-world address, and a look at the insular world of a troupe of Chinese stage-performers dreaming of freedom...
Zhao Tao, Jia's muse, is one of these troupers. For Tao and the larger ensemble of pageant performers at Beijing's real-life World Park (a sprawling hyper-pastiche of global landmarks — "famous sites from five continents"), love is respite from work, work is respite from love, and the line that extends from the past to the future loses all definition beyond the present.
A testament to the wisdom of this young filmmaker who arrived in the late 1990s with Xiao Wu and, in 2000, Platform (regarded by many to be the greatest film of the 2000s), Shijie / The World provides an image of globalisation as a paradox: at once a phenomenon rooted in social control, and a network that allows connection across individual people and populations.
Glorious 1080p Blu-ray transfer encoded from the HDCAM source;
New and improved English subtitle translations;
Tony Rayns on The World: new and exclusive video introduction to the film by scholar and critic Tony Rayns;
Made in China: a 65-minute documentary on the making of The World;
The World according to Jia Zhangke: a 24-minute video interview with filmmaker Jia Zhangke;
40 page booklet containing a new essay about the film by Tony Rayns; an essay by Jia Zhangke; and a special dossier-afterword with further commentary on certain elements of the film and its ending.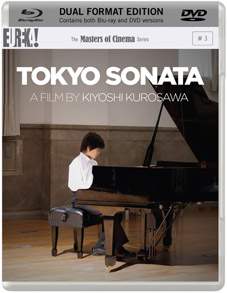 Tokyo Sonata (Masters of Cinema)
Kurosawa Kiyoshi – the hugely acclaimed Japanese director famous for his groundbreaking, existential horror films such as Cure and Kairo [Pulse] – set Cannes alight in 2008 with this highly topical film: an eerie, poignant reflection on the mass uncertainty sweeping the world.
When Ryuhei Sasaki (played by Teruyuki Kagawa) is unceremoniously dumped from his 'safe' company job, his family's happy, humdrum life is put at risk. Unwilling to accept the shame of unemployment, the loyal salaryman decides not to tell anyone, instead leaving home each morning in suit and tie with briefcase, spending his days searching for work and lining up for soup with the homeless. Outstanding performances; serene, elegant direction; and Kurosawa's trademark chills are evident as he ratchets up the unsettling atmosphere and the grim hopelessness of Sasaki's unemployment.
Gorgeous 1080p Blu-ray transfer in the original aspect ratio;
Making Of documentary [61:00];
Q&A, Tokyo, September 2008 [12:00];
Première footage, Tokyo, September 2008 [15:00];
DVD discussion [9:00];
UK trailer [3:00];
28-page colour booklet – with a new essay by B. Kite.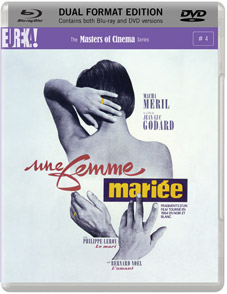 Une femme mariée (Masters of Cinema)
Long out-of-circulation and unavailable on home-video, Jean-Luc Godard's 1964 masterpiece Une femme mariée, fragments d'un film tourné en 1964 en noir et blanc [A Married Woman: Fragments of a Film Shot in 1964 in Black and White] has, until now, represented the ostensibly 'missing' key work from the first, zeitgeist-defining phase of JLG's filmography. The feature which bridges the gap between Bande à part and Alphaville, Une femme mariée is, nevertheless, a galaxy, or gallery, unto itself — a lucid, complex, profoundly funny series of portraits, etched with Godardian acids, of the wife that represents either a singular case, or a universal example, of "a"/"the" married woman, and the men in her orbit.

Macha Méril (later of Pialat's Nous ne vieillirons pas ensemble, and Varda's Sans toit ni loi) plays Charlotte — the title character. She's married to aviator Pierre (Philippe Leroy, of Becker's Le Trou). She sleeps with thespian Robert (Bernard Noël). She talks "intelligence" with renowned critic-filmmaker Roger Leenhardt, and takes part in a fashion-shoot at a public pool. The "fragments" of the film's subtitle are chapters, episodes, vignettes, tableaux; Une femme mariée is a pile of magazines made into a film, and a film turned into a magazine – the table of contents reading: Alfred Hitchcock. Jean Racine. La Peau douce. A Peruvian serum. Nuit et brouillard. The "Eloquence" bra. The quartets of Beethoven. Madame Céline. Fantômas. Robert Bresson. A Volkswagen making a right turn. A film shot in 1964, and in black and white.

Designed with Raoul Coutard's breathtaking cinematography, Godard's picture captures a moment in time — but all its mysteries, its truths, its beauty, comedy and grace, serve to resolve into a work of art for the ages. The Masters of Cinema Series is proud to present Jean-Luc Godard's classic, Une femme mariée, in a magnificent new Gaumont restoration as a Dual Format (Blu-ray & DVD) edition, released on 13 February 2012.
Gorgeous and newly restored 1080p/24fps transfer of the film in its original 1.37:1 aspect ratio;
New and improved English subtitle translations;
The original 3-1/2 minute trailer for the film (in 1080p on Blu-ray), created and edited by Jean-Luc Godard at the time of the film's original French release;
80-page book containing:

A new "overture" by legendary French critic and filmmaker Luc Moullet (Les Contrebandières, A Girl Is a Gun, Les Sièges de l'Alcazar, Le Prestige de la mort);
A lengthy roundtable discussion between Luc Moullet; writer/critic and American correspondent for Cahiers du cinéma Bill Krohn; writer/critic Andy Rector; and release producer Craig Keller on the film, and its relationship to Godard's oeuvre from the '50s through the '00s;
A concentrated investigation into the film by Bill Krohn;
An image-essay by Andy Rector;
A new statement about the film by star Macha Méril;
A transcript of Godard's late-'70s lecture on Une femme mariée, Bergman's Persona, Flaherty's Nanook of the North, and Rossellini's Francesco giullare di Dio, originally presented in Introduction à une véritable histoire du cinéma, translated here into English for the first time;
Excerpts from Jean Racine's Bérénice, in the original French, accompanied by a new parallel English translation;
An editorial preface on the role of Blu-ray and DVD booklets in the modern film-viewing era;
A short aside on the nature of "production stills" reproduced in Blu-ray and DVD booklets, film books, and film magazines;
The reproduction of a late-'70s collage by Godard on the subject of Alfred Hitchcock;
A lengthy conversational afterword by Craig Keller and Andy Rector.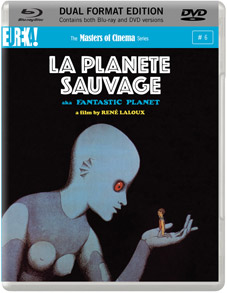 La Planète Sauvage (Masters of Cinema)
René Laloux's mesmerising psychedelic sci-fi animated feature won the Grand Prix at the 1973 Cannes Film Festival and is a landmark of European animation. Based on Stefan Wul's novel Oms en série [Oms by the dozen], Laloux's breathtaking vision was released in France as La Planète sauvage [The Savage Planet]; in the USA as Fantastic Planet; and immediately drew comparisons to Swift's Gulliver's Travels and Planet of the Apes (both the 1968 film and Boule's 1963 novel). Today, the film can be seen to prefigure much of the work of Hayao Miyazaki at Studio Ghibli (Princess Mononoke, Spirited Away) due to its palpable political and social concerns, cultivated imagination, and memorable animation techniques.
La Planète sauvage tells the story of "Oms", human-like creatures, kept as domesticated pets by an alien race of blue giants called "Draags". The story takes place on the Draags' planet Ygam, where we follow our narrator, an Om called Terr, from infancy to adulthood. He manages to escape enslavement from a Draag learning device used to educate the savage Oms — and begins to organise an Om revolt. The imagination invested in the surreal creatures, music and sound design, and eerie landscapes, is immense and unforgettable.
Widely regarded as an allegorical statement on the Soviet occupation of Czechoslovakia, Fantastic Planet was five years in the making at Prague's Jiri Trnka Studios. The direction of René Laloux, the incredible art of Roland Topor, and Alain Goraguer's brilliant complementary score (much sampled by the hip-hop community) all combine to make La Planète sauvage a mind-searing experience.
New high-definition master with optional English subtitles;
Laloux's five short films Les Dents du singe (1960), Les Temps morts (1964), Les Escargots (1965), Comment Wang-Fo fut sauvé (1987), and La Prisonnière (1988)
Laloux sauvage (2003) a 27-minute documentary about Laloux;
The alternate USA dub track for La Planète sauvage;
The complete soundtrack for La Planète sauvage;
56-page colour booklet featuring rare production sketches, an interview with Laloux, and a new essay by Craig Keller.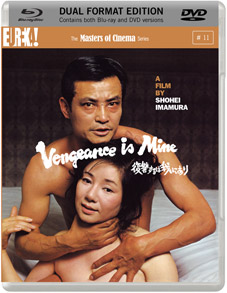 Vengeance is Mine (Masters of Cinema)
Based on the true story of Iwao Enokizu (Ken Ogata) and his murderous rampage which sparked a 78-day nationwide manhunt, Shôhei Imamura's disturbing gem Vengeance Is Mine won every major award in Japan on the year of its release. Both seducing and repelling with its unusual story and grisly humour, mamura uncovers a seedy underbelly of civilised Japanese society.
Unfolding through multiple flashbacks, Ogata delivers a career-defining performance as a day-labourer and smalltime con-artist who, after killing two of his co-workers, embarks on a psychopathic spree of rape and murder. Eluding the police and public, Japan's infamous "King of Criminals" passes himself off as a Kyoto University professor, only to become entangled with an innkeeper and her perverted mother. Five years in the making, Vengeance Is Mine transcends the imitations of run-of-the-mill criminal studies by presenting a portrait of a killer imbued with a poignant, tragic banality.
New 1080p Blu-ray encode in the film's original aspect ratio;
New and improved optional English subtitle translation;
Audio commentary by noted critic and filmmaker Tony Rayns;
Video introduction by film director Alex Cox;
Original Japanese theatrical teaser and trailer (Blu-ray only);
56-page booklet featuring a 1994 interview with Imamura by Tôichi Nakata, original promotional material, and a director's statement.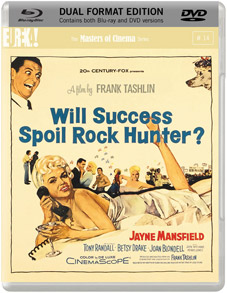 Will Success Spoil Rock Hunter? (Masters of Cinema)
Unsold on celebrity? Congested with consumption? Addled by status? You're in The World, kiddo, brought to you by Frank Tashlin – "Because Someone's Got to Live in It." And now a brief word on our latest fine product, the one that gives you the answer to that nagging question: Will Success Spoil Rock Hunter?
Ladies and gentlemen, no-one does straight-and-narrow quite like Tony Randall, and we guarantee his turn as lovable ad-man Rockwell P. Hunter will leave you in so many stitches you'll be just silly with sc-HAH-rtissue! And speaking of tissue: once you see Jayne Mansfield bob and weave as starlet Rita Marlowe, the ambidextrous angel who takes Hunter under her "wings" to launch his agency into the $trato$phere, you too will coo her trademark "ooo"! But that's not all! You'll also get Ms. Joan Blondell, star of Nightmare Alley and of Opening Night, who rounds out the package as Ms. Marlowe's assistant and handler — as they say in Paris, quel package!
Gorgeous high-definition transfer of the film in its original 2.35:1 aspect ratio;
New and exclusive video introduction to the film by director Joe Dante (Gremlins 1 & 2, InnerSpace, Looney Tunes: Back in Action);
Vintage Movietone short which captures Jayne Mansfield on tour promoting the film;
Alternate music & effects track with a different musical score for the opening of the picture and other 'temporary' effects-placement;
Original theatrical trailer;
Optional English SDH subtitles for the deaf and hearing-impaired.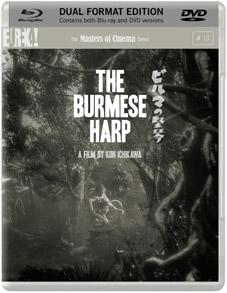 The Burmese Harp (Masters of Cinema)
A rhapsodic celebration of song, a brutal condemnation of wartime mentality, and a lyrical statement of hope within darkness; even amongst the riches of 1950s' Japanese cinema, The Burmese Harp, directed by Ichikawa Kon (Alone Across the Pacific, Tokyo Olympiad), stands as one of the finest achievements of its era.
At the close of World War II, a Japanese army regiment in Burma surrenders to the British. Private Mizushima is sent on a lone mission to persuade a trapped Japanese battalion to surrender also. When the outcome is a failure, he disguises himself in the robes of a Buddhist monk in hope of temporary anonymity as he journeys across the landscape – but he underestimates the power of his assumed role.
A visually extraordinary and deeply moving vision of horror, necessity, and redemption in the aftermath of war, Ichikawa's breakthrough film is one of the great humanitarian affirmations of the cinema.
The Burmese Harp was nominated for the Best Foreign Language Film Oscar and honoured at the Venice Film Festival, The Burmese Harp is one of cinema's great anti-war classics, alongside La Grande Illusion (Jean Renoir), Grave of the Fireflies (Isao Takahata/Studio Ghibli), Paths Of Glory (Stanley Kubrick), All Quiet on the Western Front (Lewis Milestone), and The Great Dictator (Charlie Chaplin).
New, restored high-definition 1080p transfer officially licenced from Nikkatsu;
Newly translated optional English subtitles;
Exclusive video interview with scholar and filmmaker Tony Rayns;
Original Japanese theatrical trailer PLUS: A 40-page booklet with an essay by Keiko I. McDonald and rare archival stills.