Good news for fans of classic British horror – Studiocanal have announced that they have embarked on a joint restoration project with Hammer to restore and release on DVD and as Blu-ray premiers some of the studio's most celebrated horror titles.
Starting in March with one of Hammer's most iconic characters, they will be releasing on double-play Dracula: Prince of Darkness, which was directed by their star filmmaker Terence Fisher and stars Christopher Lee, Barbara Shelley, Andrew Keir and Francis Matthews. Along with the fully restored film, there will be a comprehensive extras package produced in association with Hammer expert and author Marcus Hearn.
Four English tourists find themselves stranded in the mysterious village of Karlsbad, a sinister and remote place of deadly, dark legend. Their journey leads them to an abandoned castle where a nightmarish destiny awaits them. However, it wasn't just fate that brought them here, but an evil force in need of resurrection, a blood craving beast known only as Count Dracula.
Released in 1966, this was Cristopher Lee's second outing as Dracula (though Hammer's third Dracula film, following the 1960 Brides of Dracula, also directed by Fisher) and one of the series' best, more direct in the links between vampirism and sex and providing the Count with his first faithful manservant in Philip Latham's wonderfully sinister Clove.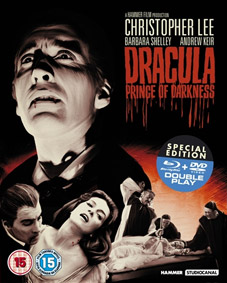 Dracula: Prince of Darkness will be released in the UK as a double-play set (including DVD and Blu-ray versions of the film) by Studiocanal on 5th March 2012 at the RRP of £22.99.
The set will feature a digitally restored print and the following extras:
Commentary featuring Christopher Lee, Suzan Farmer, Francis Matthews & Barbara Shelley;
World of Hammer episode: Hammer Stars: Christopher Lee;
Back to Black;
Super 8mm behind-the-scenes footage;
Restoration comparison;
Trailer;
Double-bill trailer;
Original USA titles;
Original print UK theatrical titles. 
Further titles to be released in this restoration programme will include John Gilling's The Reptile and The Plague of the Zombies, both arriving to Blu-ray for the first time on May 7th, with more to follow later this year.