Two films by legendary Polish filmmaker Wojciech Has – The Hourglass Sanatorium (Sanatorium pod klepsydra) and The Saragossa Manuscript (Rekopis znaleziony w Saragossie) have been painstakingly restored for new DVD releases by Mr. Bongo Films in March.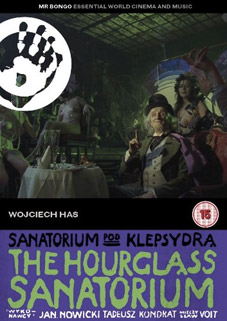 An adaptation of the story collection Sanatorium Under the Sign of the Hourglass by Bruno Schulz (regarded by some as the Polish Kafka), The Hourglass Sanitorium (1973) is a surrealist head-spin of a film and has been compared to the best works of Gilliam, Greenaway, and Bunuel.
The film depicts its protagonist, Joseph (Jan Nowicki), travelling through a dream-like world, taking a dilapidated train to visit his dying father in a sanatorium. When he arrives, he finds the entire facility is going to ruin and no one seems to be in charge, or even caring for the patients. Time appears to behave in unpredictable ways, reanimating the past in an elaborate artificial caprice.
The many occurrences in this visually potent phantasmagoria include Joseph re-entering childhood episodes with his eccentric father (who lives with birds), being arrested by mysterious soldiers, reflecting on a girl he knew in his boyhood and bringing historic wax figures to life with names from a postage stamp album. Throughout his strange journey, an ominous blind train conductor reappears like a death figure. Has also includes a series of reflections on the Holocaust that were not present in the original novel, reading Schulz's prose through the prism of the author's tragic death and the destruction of the world he described.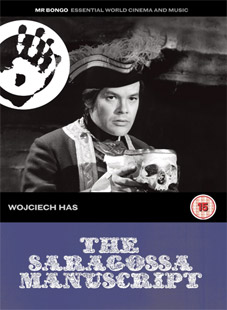 Has's masterpiece The Saragossa Manuscript (1965) is a weird and wonderful Polish film that been cited by a number of world famous directors, including Martin Scorsese, Francis Ford Coppola and Luis Bunuel, and rock star Jerry Garcia, as there favourite film. Based on the book by the highly-esteemed Count Jan Potocki, the film version is reputedly a respectful, mostly faithful adaptation of this literary cat's cradle set in the weirdly fantastic landscapes of arid 17th-century Spain.
In a gloriously convoluted structure, characters pop in and out of each other's stories with the random-logic of a drug-trip. These characters include sexy ghost-princesses, the demonically-possessed and many an errant corpse! The intriguing stylistic flourishes sit against the wonderful soundtrack, which was composed by Krzyszt Penderecki.
The Hourglass Sanatorium and The Saragossa Manuscript will be released on UK DVD with fully restored transfers on 19th March 2012 by Mr. Bongo Films at the RRP of £12.99 each.
No extra features have been detailed.