Arrow Films have announced two new DVD releases from the Arrow Video and ArrowDrome labels. A new digitally re-mastered version of The Deadly Spawn will be released on to Arrow Video on 19th March, featuring an exciting line-up of special features including an alternate opening sequence and selected archive TV interviews with the filmmakers. Following this release will be the arrival of Don't Go in the House on the ArrowDrome label, which will be released totally uncut for the first time in the UK on 26th March.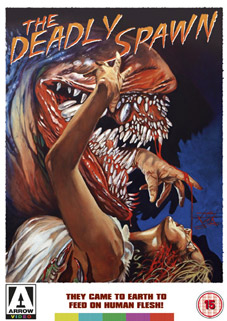 The Deadly Spawn (1983)
Something awful is coming, hurtling through the void in a meteor that's on a collision course with Earth. What terrifying entry in the annals of horror will be unleashed when the sinister intergalactic payload smashes into our planet? Answer? The Deadly Spawn!
Two foolish campers witness the crash and investigate. They become the first eviscerated victims of the alien menace. Soon, a small, heartland American town will be under siege as the carnivores from outer space multiply and feast on the locals. Can a gang of plucky kids stand up to these invaders from another world? Will the planet be overwhelmed? Find out in The Deadly Spawn, a classic serving of low budget schlock from the golden era of independent American horror.
The Deadly Spawn will be released on UK DVD by Arrow Video on 19th March 2012 at the RRP of £15.99.
With a digitally remastered windowboxed transfer in the original full frame aspect ratio, the disc will have the following extras:
Audio commentary with writer and producer Ted A. Bohus;
Audio commentary with editor Marc Harwood;

Reversible sleeve with original and newly commissioned artwork by Rick Melton;
Double-sided fold-out artwork poster;
Collector's booklet featuring writing on the film by Calum Waddell and Tim Sullivan;
A Comic-style prequel with its own musical score;
Alternate opening sequence with new effects and credits
In the workshop of S/FX Director John Dods;
A selection of archive TV interviews featuring the filmmakers;
Outtake Reel;
Audition Tapes;
Original Theatrical Trailer;
Stills gallery featuring behind-the-scenes images, pages from the script, artwork and more!
Don't Go in the House (1980)
In a steel room built for revenge, they die burning... in chains. Most horror killers like to slash and slice their victims but little Donny prefers setting them alight in Don't Go in the House, a sleazy reminder of just how shocking horror movies could get in the video nasty era.
Donny is a disturbed kid... A mother's boy if you will. That is until mother expires and Donny's world crumbles in on itself. Now, lonely, adrift and enslaved to dark voices in his head, Donny seeks female companionship but drinks and dancing are the last thing on his mind. Mother's telling him he's a bad boy and the voices won't let him rest. Maybe if he just gets a girl home and into his steel lined burning chamber, the chatter might quiet down...
Now see Don't Go In The House – complete and uncut – and revel in the surreal sleaze, low rent Hitchcock melodrama, off Broadway acting and extreme, heat-seared violence of an independent horror classic that still retains its ability drop jaws, rattle cages and offend sensibilities over 30 years later.
Don't Go in the House will be released on UK DVD as part of the ArrowDrome label on 26th March 2012 at the RRP of £9.99.
The special features are:
Trailer;
ArrowDrome horror trailers.