Teen speed-freak Amy Blue and her dim-witted boyfriend Jordan White find their lives are turned on their heads when they meet the mysterious, charismatic drifter who has a bad habit of killing people. The trio embark on a hell-ride of a journey fuelled by sex and violence that takes debauchery to new heights.
Rose McGowan, James Duval and Johnathon Schaech star in boundary-pushing cult 90s hit from director Greg Araki (Totally F***ed Up), a no-holds-barred teen road-trip like no other, a depraved teen-tear-up that includes cameos from Hollywood Madam Heidi Fleiss, Parker Posy and Perry Farrell.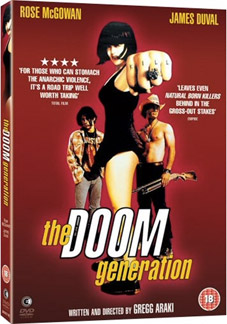 Described by Total Film as being "for those who can stomach the anarchic violence it's a road trip well worth taking" and Empire as a film that "leaves even Natural Born Killers behind in the gross-out stakes," The Doom Generation (1995) will be released on UK DVD by Second Sight on 26th March 2012 at the RRP of £15.99.
Special features will include:
My Generation – An interview with Gregg Araki;
Commentary with Gregg Araki, Rose McGowan, James Duval, Johnathon Schaech.
Here's the trailer: