Quite an event, this, the first ever Hitchcock film to get a Masters of Cinema Blu-ray makeover, and one with one of Hitch's most inventive cameos – appearing as he does as the man in a newspaper ad for weight reduction (he apparently wanted to play a corpse floating by the lifeboat, but apparently this was frowned upon by those in studio power).
After a Nazi torpedo reduces an ocean liner to wooden splinters and scorched personal effects, the survivors of the attack pull themselves aboard a drifting lifeboat in the hope of eventual rescue. But the motivations of the German submarine captain (played by Walter Slezak) on the eponymous craft might extend beyond mere survival...
Based on an unpublished novella by John Steinbeck (written on commission expressly to provide treatment material for Hitchcock's screen scenario), Lifeboat found the Master of Suspense navigating a course of maximal tension – in the most minimal of settings – with a consistently inventive, beautifully paced drama that would foreshadow the single-set experiments of Rope and Dial M for Murder.
With a cast including Shadow of a Doubt veteran Hume Cronyn and the extraordinary, irrepressible Tallulah Bankhead, this "picture of characters", as François Truffaut aptly termed the film, oscillates between comic repartée and white-knuckle suspense – a perfect example of "the Hitchcock touch".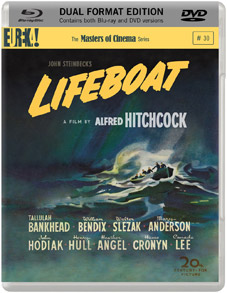 Lifeboat will be released as a dual format package (containing both DVD and Blu-ray versions of the film) on 23rd April by Masters of Cinema at the RRP of £20.42, or £30.63 if you want the Steelbook Edition.
Boasting a new high-definition master, officially licensed from Twentieth Century Fox and optional English subtitles, the release will have the following extra features:
New high-definition transfers of Hitchcock's little-seen French-language 1944 wartime films, Bon voyage (26 minutes) and Aventure malgache (31 minutes) officially licensed from the British Film Institute and with optional English subtitles;
20-minute documentary on the making of Lifeboat;
12-minute excerpt from the legendary 1962 audio interviews between Hitchcock and François Truffaut, discussing Lifeboat and the wartime shorts;
36-page booklet featuring archival imagery alongside new writing by critics Bill Krohn, Arthur Mas, and Martial Pisani.