The notorious Suzuran Senior High School for Boys is Japan's lowest achieving and most violent school, nicknamed "The School of Crows" after its students' tendency to band together in conflicting factions and battling each other for domination. The one thing they all share is a common goal that has never been achieved in the school's history: unification. No single faction has ever reigned supreme. But that could be about to change.
Genji Takiya, a recent transfer student from a rival school, has set his sights on taking over Suzuran High School before graduation. The only person standing in his way is Suzuran's toughest and most respected senior, Tamao Serizawa. It looks like an even match until Genji gains a slight advantage when he finds an unlikely mentor in the shape of Ken Katagiri, an old boy yakuza gang member with something to prove and a score to settle.
From insanely prolific and just occasionally controversial director Takashi Miike, the man behind such diverse cult movie hits as Audition, Ichi The Killer and 13 Assassins, comes Crows Zero (Kurôzu zero – 2007), another stylish and off-the-wall study of violence that, we are assured, plays out like a high school version of Fight Club and was described by Todd Brown at Twitch as "effective, engaging, touching and hugely entertaining."
Based on the bestselling manga by Hiroshi Takahashi (screenwriter of the original Japanese Ringu movies), Crows Zero is one of Miike's most accessible and commercially successful movies in years, proving to be one of his biggest box office hits to date in his native Japan and even spawning an equally successful sequel, imaginative titles Crows Zero II (2009), which was also directed by Miike, and there's a third on on the way.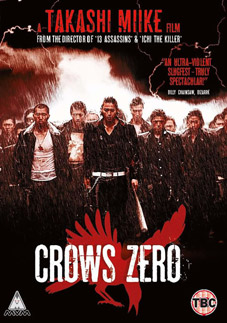 Crows Zero will be released on UK DVD on 9th April 2012 by MVM at the RRP of £15.99.
There's no sign of any extra features on the disc, but here's a trailer (yeah, sorry, it's Flash):