The mockumentary genre – you surely don't need me to explain the term do you? – continues to quietly thrive in two films to be released on DVD in April by the rather splendidly named Safecracker Pictures. Hardcore: Bare Naked Talent takes a pot-shot at the pron film industry, while Tash Force sets its sights on TV cops dramas and reality shows likePolice, Camera, Action.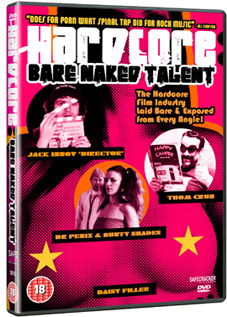 Hardcore: Bare Naked Talent
Film-maker 'Jack Innov' wants to make serious movies but after years spent making low budget horror film rip-offs, he realises his only chance is to bank roll his dreams on the back of a sweeping romantic self-penned porn epic titled 'Assanova'.
Alas Jack's quest to film his tour de force is beset with difficulties right from the start. Managing the minuscule budget is a piece of cake compared to the antics of the eccentric and eclectic cast and crew, (including, a junkie continuity girl, a naked German cinematographer and a pair of lesbian actresses who feel uncomfortable using explicit language). In the midst of this madness Jack is forced to come to terms with his own sexual inexperience, (as knowledge of only one sexual position can be a key impediment in the porn world).
The whole bungling enterprise is bank-rolled by two gormless gangsters, Ron and Reg, one obsessed with the immense bosoms of the female cast while the other is more concerned with the Greek leading man's over-endowed bonhomie and manhood. But Jack is a man on a mission and no mishaps or obstacles will sway him from the creation of his modern minor masterpiece. The show must go on.
Hardcore: Bare Naked Talent – which originally went by the more suggestive title of Hardcore: A Poke Into the Adult Film Orifice – does for porn what This is Spinal Tap did for rock music, a mockumentary that pokes fun at the adult film industry from every angle (fnar fnar). It's actually been enthusiastically received by those who've managed to see it. The good news is that it's coming to UK DVD on 16th April 2012 from Safecracker Pictures at the RRP of £15.99.
And we don't just get the film, as the disc has a very decent collection of extras:
Commentary with star Jack Innov and writer/producer Mark Withers;
Circumcised Scenes;
Bunty Shades Audition;
Garden Scene Rehearsal;
Jack Innov Promo.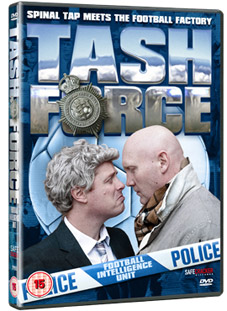 Tash Force
A madcap comedy following Tash McDermott, the head of Lancashire Constabulary's Football Intelligence Unit, as he tries to track down a football hooligan ring leader, and put a stop to "shenanigans" on the football terraces.
Tash is on the trail of the elusive 'Nightmare', a notorious football firm hooligan. But, inspired by TV programmes like Police, Camera, Action, Tash gives a journalist unrestricted access to his day to day operations. The trouble is, Tash is still stuck in the glory days of the past, when football was a man's game, women knew their place, a ruck was pretty much guaranteed, and he was top of the league for arrests and banning orders.
Tash senses that being the subject of a documentary will restore his status, put him right back where he deserves to be, and maybe even make him a star. So he keeps taking his eye off the ball and ends up spending more time playing up to the camera than getting on with the job. Soon the wheels are coming off his undercover operation as he makes one hilarious mistake after another. The camera records every cringing moment as he attempts to deal with modern day political correctness. As he loses his focus and his sobriety, it soon becomes apparent that Tash is a sad, bungling cop who is way out of his depth.
Tash Force will be released on the 23rd April 2012 from Safecracker Pictures at the RRP of £15.99.
Like its above-detailed companion, the disc comes complete with a good set of extras:
Viral - Baddest Bastards - Tash runs through his captured hooligans;
Viral - Boardroom Extra - Tash and Terry have a boardroom spat;
John Robb TV Interview;
Tash's Christmas Message 2011;
Tash's webcam;
Tash ForceTrailer;
Tash McDermott Hardcore Drinker – a featurette.