Baseball prodigy Jubeh Yakyu (Tak Sakaguchi) is the most feared and dangerous juvenile delinquent in all of Japan. After accidentally causing the death of his father with a super-powered, deadly fireball pitch, Jubeh swore off baseball and became a criminal and now, at 17, has been sent to the Pterodactyl Juvenile Reformatory for hardened criminals. Headmistress Ishihara, the granddaughter of a World War II Nazi collaborator, runs the institution with an iron fist and the enthusiastic help of her sadistic assistant, Ilsa. After arriving at the hellhole, Jubeh soon learns from governor Mifune that his long-lost, younger brother Musashi had also done time there after a murder spree, but had since died mysteriously.

Despite having sworn never to play baseball again, Jubeh is presented with an ultimatum by governor Mifune: join the reformatory team, The Gauntlets, in the national tournament for juvenile inmates, or witness the death of his innocent cellmate Four Eyes (Mari Hoshino). With the knowledge that the death of his brother is somehow connected to the team, Jubeh agrees, and Gauntlet training begins. Their first opponents: the sexy but deadly "psycho butcher girls" of the St. Black Dahlia High School, a team of literal man-killers. And so the splatterific baseball tournament begins, but Jubeh soon learns that he is not only fighting to win the game, but also to save his own life!

A hilariously offensive, politically incorrect sports splatter comedy, Deadball is director Yudai Yamaguchi's follow-up to his earlier zombie baseball classic Battlefield Baseball, and once again features action star Tak Sakaguchi (Versus, Be a Man!, Samurai School). A riotous, over-the-top epic of excess, Deadball is the movie for the psycho sports fan in all of us, and apparently more fun than a prison cavity search. Ouch.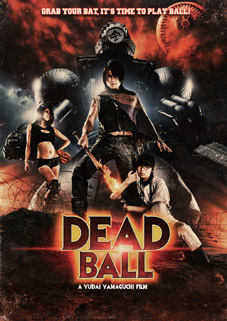 Deadball will be released on UK DVD on 7th May 2012 by Bounty Films and distributed by Eureka Entertainment at the RRP of £16.34.
The special features are:
The making of Deadball;
Final Deadball – short film;
Toki's Wedding (Part two);
Battlefield Baseball High School;
Opening day stage greeting;
Cast interviews;
Cast reunion;
Trailer;
Isolated music track.