It's a shame no-one told the Boyle family, who move into a gothic style house located right next to a cemetery, one with a bloody past and a gut-spraying future, what is yet to come. You'd think they'd twig something was when they discover that the basement door is nailed shut, but instead they stay long enough to discover their zombified non rent-paying lodger, the cellar-dwelling, flesh-hungry Dr Freudstein.
Following City of the Living Dead and The Beyond, (made at breakneck pace in 1980 and 1981 respectively) The House by the Cemetery was unleashed in 1981 and was the final part in Fulci's informal 'Gates of Hell' Trilogy. Each film explores the possibility of gateways to another world, a hell where the undead can pass through to our world and surreal chaos can ensue. Stephen Thrower, Fulci's biographer notes,
"Fulci brings to the spook-show a relentless physicality. These 'ghosts' do more than just flap at you; they wrestle you, they pin you to the wall, they chew you. They're a wonderfully exciting combination of ghost and zombie, borrowing the best from each. And it's all about the imagery: Fulci hurls us into a seething carnival of blood, worms, entrails, popped eyeballs, squished brains and decaying flesh."
Celebrated horror-auteur Eli Roth comments that Fulci, "in a span of 2 or 3 years changed the course of horror forever."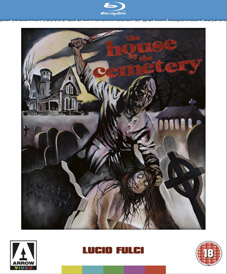 Previously released on DVD only by Arrow with an impressive transfer and a reasonable set of extra features (you can read our review here), The House by the Cemetery is to be given a new release as a Delexe Edition in both dual format (DVD and Blu-ray) and Limited Edition Blu-ray editions, also from Arrow, with a spanking new restoration and a cellar full of extra features.
Both editions will feature a brand new High Definition restoration from the original negative presented totally uncut, optional English and Italian original uncompressed LPCM mono 2.0 audio and optional English subtitles for both the English (SDH) and Italian audio tracks.
Special features on both the Blu-ray and DVD will include:
Audio commentary with star Catriona MacColl, moderated by Calum Waddell;
Audio commentary with co-star Silvia Collatina, moderated by Mike Baronas of Paura Productions;
Introduction to the film by star Giovanni Frezza;
Back to the Cellar: Interview with star Giovanni Frezza;
Cemetery Woman: Interview with star Catriona MacColl
Freudstein's Follies: Interview with special effects artist Giannetto De Rossi;
Wax Mask – Finishing the Final Fulci: Interview with Sergio Stivaletti about his completion of Wax Mask after Fulci's passing;
Ladies of Italian Horror: Featuring Silvia Collatina (The House by the Cemetery), Stefania Casini (Suspiria / Bloodstained Shadow) and Barbara Magnolfi (Suspiria / The Sister Of Ursula);
Easter Eggs.
And on the DVD in the dual format edition:
House by the Cemetery Onstage Q&A Cast Reunion, live from the Horrorhound convention, Indianapolis, March 2011: Featuring Catriona MacColl, Giovanni Frezza, Silvia Collatina, Carlo DeMejo and Dagmar Lassander;
Italian Trailer Compilation: Twenty cult trailers from the golden age of Italian cult cinema including several rare previews from the resume of the late, great Lucio Fulci each prefigured by a written introduction;
Deleted scene;
Original House by the Cemetery Trailer and TV Spot.
And finally:
Reversible sleeve with 3 original poster artworks and newly commissioned artwork cover [Limited Edition Exclusive];
Double-sided fold-out artwork poster [Limited Edition Exclusive];
Collector's booklet featuring writing on the film by author Calum Waddell.
The dual format edition will sell for £19.99 and the Limited Edition Blu-ray for £24.99.