It's seven years since Tricia's (Courtney Bell) husband Daniel vanished without a trace, and when her troubled younger sister Callie (Katie Parker) comes to live with her she finally finds the strength to make the painful decision to declare him legally dead 'in absentia'. But as Tricia tries to move on with her life she becomes haunted by terrifying visions, while Callie is strangely drawn to an ominous tunnel near the house, which is linked to other unexplained disappearances. There's something lying in the dark shadows of the tunnel but does it hold the key to Daniel's fate and could it be something far worse than death?
Absentia is a dark and terrifying independently made horror that has garnered numerous genre awards, including Best Horror Feature at the Shriekfest, Freak Show Film Fest, Shockerfest and Phoenix Film Festivals, and has attracted some very positive reviews, being described by genre writer Kim Newman as "one of the outstanding horror releases of the year." All right then.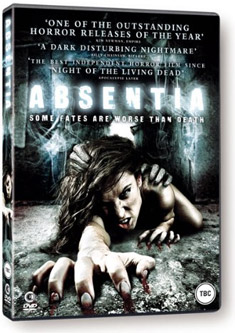 Written and directed by Mike Flanagan and starring Doug Jones (Pan's Labyrinth, Hellboy) it comes to UK DVD on 9th July 2012 from Second Sight at the RRP of £15.99.
No extra features have been listed.