If by some chance you were under the impression that the thorny issue of the Irish armed struggle / Irish terrorism (delete according to political viewpoint) has only been making its way into mainstream movies in the past thirty years or so then you've missed out on Odd Man Out (1947), one of Third Man director Carol Reed's finest films and what is apparently Roman Polanski's all-time favourite.
James Mason stars as Johnny McQueen, an idealistic leader of an illegal IRA-like organisation in Northern Ireland, imprisoned for gun-running. Escaping, he plans an armed raid to financially support his plans – but it goes wrong; he is shot and badly wounded. Stumbling through the back-alleys of Belfast, he must find a place to hide out, but discovers he is not just wanted by the police, but by the people he thought of as his friends...
Taken from a digitally-restored High Definition print, Oscar-winning cinematographer Robert Krasker's (The Third Man, El Cid) imagery has never looked better. Featuring outstanding performances from Robert Newton (Oliver Twist, Obsession) as Lukey, the artist who wants to capture the moment of death in McQueen's eyes, and Kathleen Ryan (Give us this Day, The Sound of Fury), as the woman who loves him more than life itself, Odd Man Out is a story that shows the impact of the Irish Question on ordinary people, and not just those involved directly with the struggle.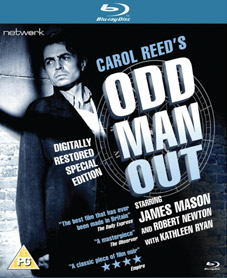 Odd Man Out gets its first ever UK Blu-ray release from Network Releasing on 18th June 2012 at the RRP of £19.99.
As you would hope, there are some interesting looking extra features:
Commemorative booklet, including original theatrical press-book;
Home, James – documentary from 1972, where James Mason returns to his native Yorkshire;
ITV Interview from 1972 with James Mason;
Script in PDF format;
165 image stills gallery.
We haven't managed to track down a trailer, but here's an intriguing clip: