Trishna (Freida Pinto) meets a wealthy young British businessman, Jay Singh (Riz Ahmed), who has come to India to work in his father's hotel business. After an accident destroys her father's Jeep, Trishna goes to work for Jay, and they fall in love. But despite their feelings for each other, their relationship must remain a secret due to the conflicting pressures of a rural society which is changing rapidly through industrialisation, urbanisation and, above all, education.
Their problems seem to be solved when Jay takes Trishna to an exciting new world of dance, vibrant life and possibilities - Mumbai. But Trishna harbours a dark secret that threatens the very heart of their love affair, and inequalities remain at the centre of their relationship that will lead her to question Jay's intentions towards her.
Starring Frieda Pinto (Slumdog Millionaire, Rise of the Planet of the Apes) and Riz Ahmed (Four Lions, The Road to Guantanamo) and directed by acclaimed British director Michael Winterbottom (9 Songs, 24 Hour Party People) and based on Thomas Hardy's classic novel Tess of the d'Urbervilles, Trishna is a beautifully shot, classic tale of love and tragedy set across modern day rural Rajasthan and the thriving metropolis of Mumbai.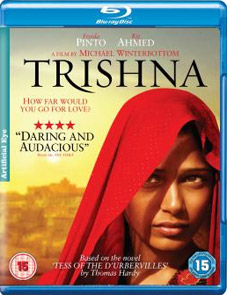 Trishna will be released onUK DVD and Blu-ray on 9th July 2012 by Artificial Eye at the RRP of £15.99 for the DVD and £19.99 for the Blu-ray.
No extra features have been listed on the press release, but that doesn't mean there are none – this is an Artificial Eye release after all.