Sally Potter's dazzling adaptation of Virginia Woolf's classic novel is the tale of the apparently immortal Orlando, who begins an epic quest for love and freedom in the court of Elizabeth I as a man and completes the search 400 years later as a woman. This journey takes Orlando from the frozen river Thames and central Asia, where he changes sex, through to romantic love and loss in the Victorian age, motherhood and war in the twentieth Century, until finally arriving in the present moment.
Tilda Swinton leads an outstanding international cast that includes Billy Zane, Dudley Sutton, and incomporable Quentin Crisp as Queen Elizabeth I, in this enchanting, witty, visually striking and brilliantly original story of self-discovery, romance and adventure. Possibly Potter's most celebrated film, it was nominated for two Oscars (Best Art Direction-Set Decoration and Best Costume Design) and won a number of prestigious international awards, including Best Film at the 1992 Venice Film Festival and 1993 Catalonian International Film Festival and several gongs for Swinton's enigmatic central performance.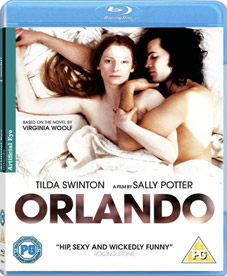 Orlando will make its UK Blu-ray debut on 6th August 2012 from Artificial Eye at the RRP of £19.99.
The following special features have been announced:
Orlando Goes to Russia documentary;
Orlando in Uzbekistan documentary;
Jimmy Was An Angel documentary;
Selected scene commentary by Sally Potter;
Interview with Sally Potter;
Venice Film Festival press conference.