Detective Sergeant Frank Heriot is healthy, happily married, and has a good job. So what has made him cold and distant towards his family? And why is he suddenly plagued by terrible headaches? Is he mentally ill or is something far more sinister affecting his mind? Gradually, the answer becomes clear: Frank is the victim of an unknown force seeking to undermine public confidence in the people and institutions that form the backbone of the British Establishment. Doctors, teachers, scientists, clergymen and writers and are all among its targets; its ultimate aim is anarchy. Where will the mysterious menace strike next? It could be the man who sits next to you on the bus. Or it could be you...
Crime drama meets science fiction in Undermind, a chilling and intriguing ABC series, first broadcast in 1965 and starring Rosemary Nicols (Department S), Jeremy Kemp (Z Cars) and Jeremy Wilkin (UFO). The series is co-scripted by Sci-Fi writer Robert Holmes, who would go on to write 18 episodes of Doctor Who.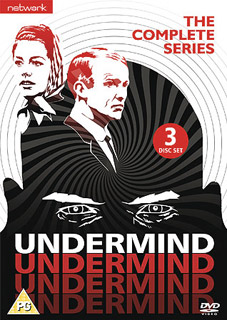 Undermind will be released for the first time in any format in a 3-disc set on 23 July 2012 by Network Releasing at the RRP £29.99.
No extra features have been listed, but you can get a small flavour of the series here: