In 1962 at the height of his fame and creativity, Alfred Hitchcock chose an unknown fashion model to star in one of his most ambitious films – The Birds. But as he sculpted Tippi Hedren into the perfect Hitchcock blonde of his imagination, he became obsessed with the impossible dream of winning her love in real life. His failure arguably destroyed both of their careers.
Toby Jones (Tinker Tailor Soldier Spy, The Hunger Games) stars as England's most renowned director Alfred Hitchcock in the BBC film The Girl that tells the full story of his obsessive relationship with Tippi Hedren, played by Sienna Miller (Factory Girl). Alongside the fine two leading players, The Girl features a stellar cast of British acting talent, including Imelda Staunton (Vera Drake) as Alma Hitchcock and Penelope Wilton (Downton Abbey) as Hitchcock's loyal assistant Peggy Robertson.
The film gives an insight into the life and loves of the inimitable master of suspense Alfred Hitchcock, who is himself subject to an extensive season at the British Film Institute 'The Genius of Hitchcock' from June to October 2012.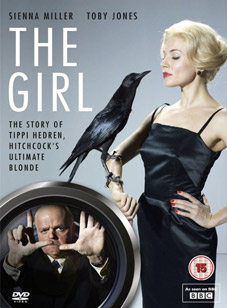 The Girl will be aired on BBC2 and released on UK DVD on 28th August 2012 by Acorn Media at the RRP of £17.99.
The disc will include an exclusive, behind-the-scenes documentary.
UPDATE: The release has now been delayed and a new release date will be posted as soon as we have it.